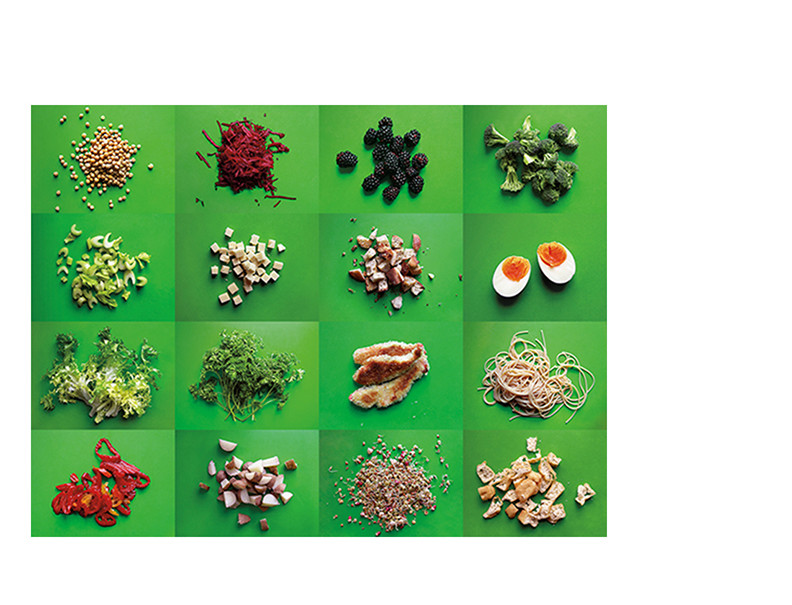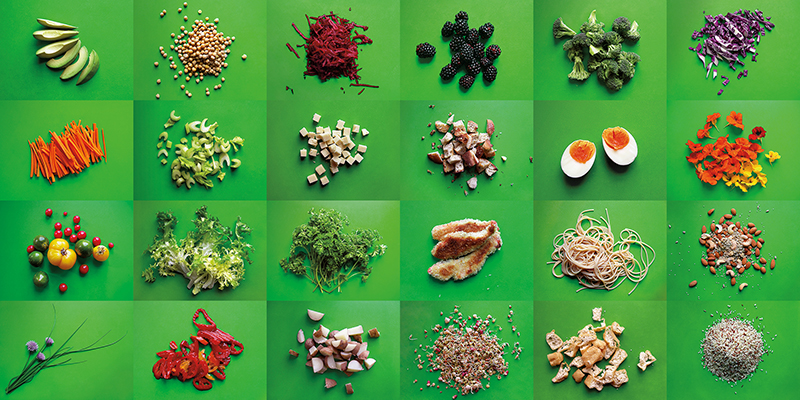 Salads are so much more than a pile of leafy greens with a few fun things here+there: just about any fresh fruit, veg or carb can form the foundation of a great salad recipe! Make it a meal by including 50:20:30 CARBS:PROTEINS:FATS!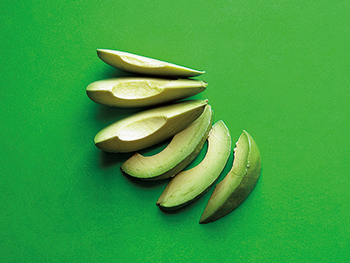 AVOCADOS
A SUPER FOOD! A great source healthy fats! Peel + slice your avos as a last step so they stay bright + intact for as long as they can!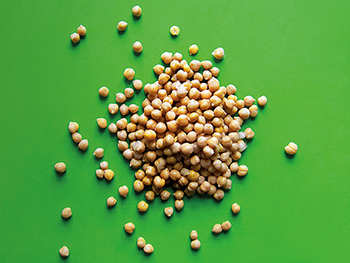 BEANS
A SUPER FOOD! Black beans, chickpeas (garbanzo beans), lentils, and red beans (kidney beans) are a great way to add protein to your salad!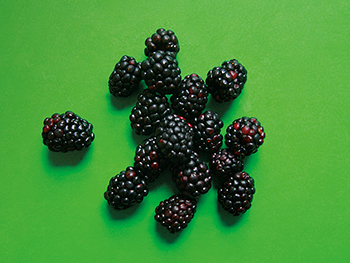 BERRIES
A SUPER FOOD! Blackberries, blueberries, cranberries (fresh or dried), + strawberries add sweetness or tartness to your salad!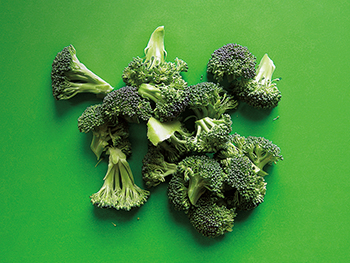 BROCCOLI
A SUPER FOOD! Chopped finely, broccoli adds a crisp green taste + a firm texture to your salads. Lovely with a yogurt dressing!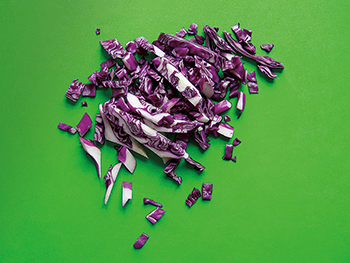 CABBAGE
A SUPER FOOD! The foundation of a great Coleslaw, try mixing different types: Napa, Savoy, purple or green! Be sure to add a handful of sunflower seeds, too: cabbage + sunflower seeds are great friends in a salad!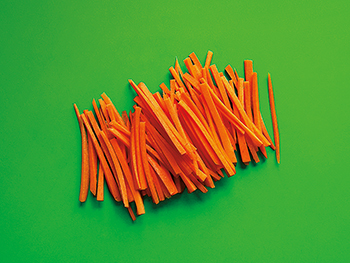 CARROTS
Julienne or grate carrots for a fresh, sweet topping- it's a great way to include these blood-sugar-stabilizing vegetables in your salad recipes!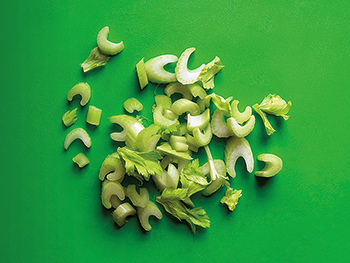 CELERY
Slice finely for a fresh + crispy crunch! Celery + cashews are a natural pair when composing a hearty salad for a summer lunch!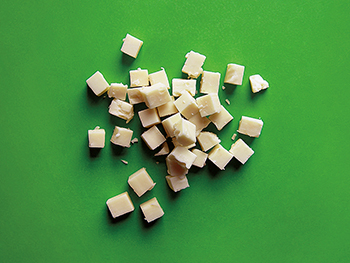 CHEESE
Cubed aged cheddar, blue, or jalapeno Monterrey Jack. Crumbled feta. Grated parmesan. Cheese lovers, this is the place!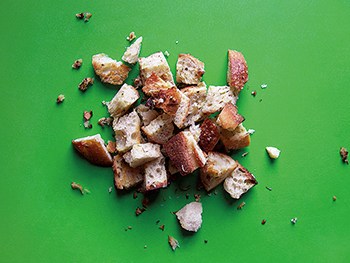 CROUTONS
Cube 5-6 pieces of crusty bread + toss in a bowl with diced garlic, a splash of olive oil, + dashes of oregano, rosemary, thyme, salt + pepper. Lay out on a sheet of parchment paper over a baking sheet + bake in the oven at 325˚. Flip over occasionally. Remove when croutons are dry + crunchy. Allow to cool before adding to salads. Store in the freezer in a sealed jar or zip-lock bag.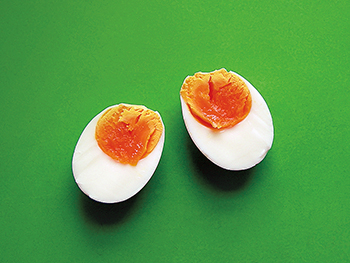 EGGS
Boiled eggs are a great way to add protein to your salad! Combine them with puffed tofu + roasted cashews in a bright noodle salad; or with avocados + almonds in a elegant spinach salad!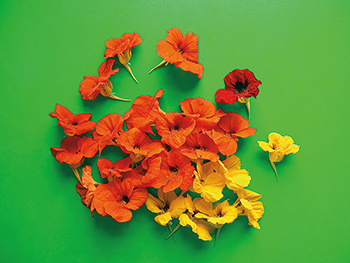 FLOWERS
Add beautiful colours + delicate textures to your salads with edible flowers from plants like chives, nasturtiums, squash + zucchini!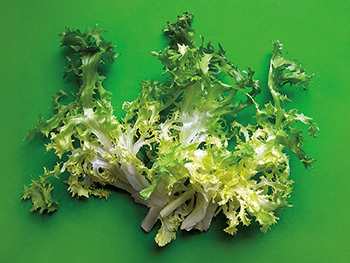 GREENS
Arugula, endive, kale, lettuce, mesclun mix + spinach, often best in combination with herbs like basil, cilantro, mint or parsley, make for an eventful green salad! Add sliced red onion, an orange, an avocado + a handful of nuts, + you have a beautiful, crisp compliment to your meal!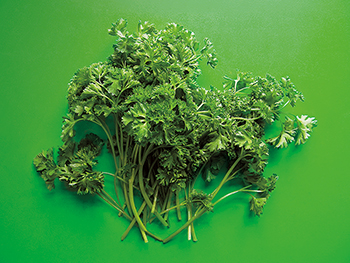 HERBS
Including a little fresh basil, cilantro, mint or parsley goes a long way to spice up (for lack of a better term!) a green salad! Try growing these guys in small pots or a window box + pick what you need as you go!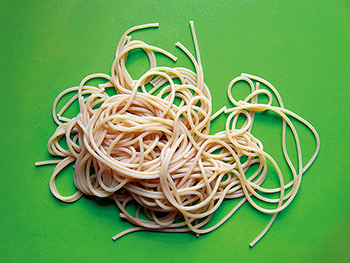 NOODLES+PASTA
Macaroni, ramen, soba, spaghetti + many other types of pasta make a great foundation for a filling lunch or dinner salad! Be sure to cook your noodles extra-firm- they'll soften more when you toss your salad in dressing!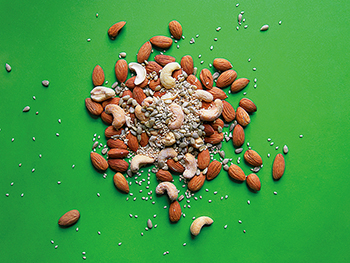 NUTS+SEEDS
A SUPER FOOD! Nuts like almonds, brazil nuts, cashews, walnuts; + seeds like flax, hemp, pumpkin, sesame + sunflower bring a lot to the table! Two schools: toast your nuts + seeds to get the best taste; OR, sprout them (by soaking in regularly changed water) to get the best health benefits. It's up to you! Quinoa is a seed that can sub in for grains like brown rice or bulgur in salads like EVK's Tabbouleh recipe.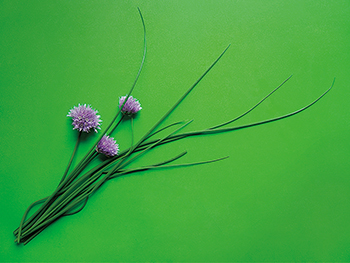 ONIONS
A SUPER FOOD! Finely slice chives, green onions, red onions, or shallots to add spice to your salad recipe. You'll appreciate the fresh taste of green onions or the sweet taste of red onions!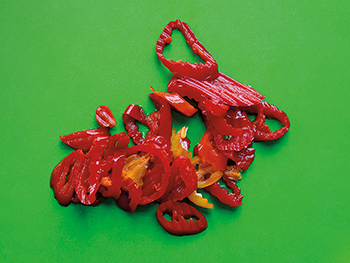 PICKLES
Artichoke hearts, pickled beets, banana peppers, dill pickles, sushi ginger, olives, + falafel-style pickled turnips really bring the flavour to an otherwise subtle salad recipe! It's probably best to pick one pickled element per salad: the flavour or each of these guys is so distinct that fights can break out- strive for harmony, as in all endeavours!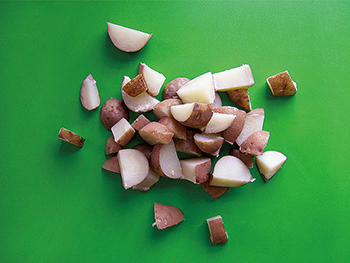 POTATOES
Just like malt vinegar on fries, vinegar + potatoes are great friends in a salad recipe! Boil your potatoes almost to desired softness (not too soft or they'll fall apart later!), drain + let sit until the edges start to become fluffy + white. Pour on a good splash of olive oil + your favourite mild, light-coloured vinegar, a dash of mustard seeds, + salt + pep. Toss thoroughly + let marinate for an hour or so before serving.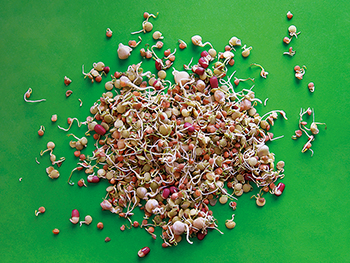 SPROUTS
Sprouts are alive! Sprouted alfalfa, adzuki, broccoli, buckwheat, garlic, lentil, pumpkin, radish, sunflower, etc. have been activated from their dormant state by being soaked in fresh water + are ready to grow! This means you get more of what's going on in each guy!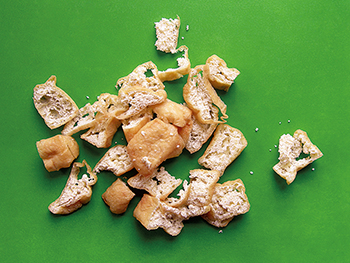 TEMPEH
+TOFU
Two great ways to add protein to your salad recipe! Tempeh is a fermented soy bean patty (one fermented food per day!) with a rich flavour + texture, great in salads either crumbled raw or sliced + sautéed. Puffed tofu has a light, bubbly texture + is a nice compliment to noodles in EVK's Gado Gado + Thai Noodle Salad!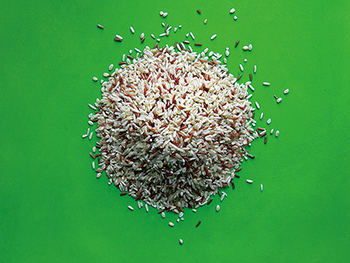 WHOLE
GRAINS
A SUPER FOOD! Cooked barley, brown rice, buckwheat + bulgur are great foundations for a substantial salad with lasting energy! Contrast with crispy fruits + veg like apple, carrot, celery, pear + red pepper!