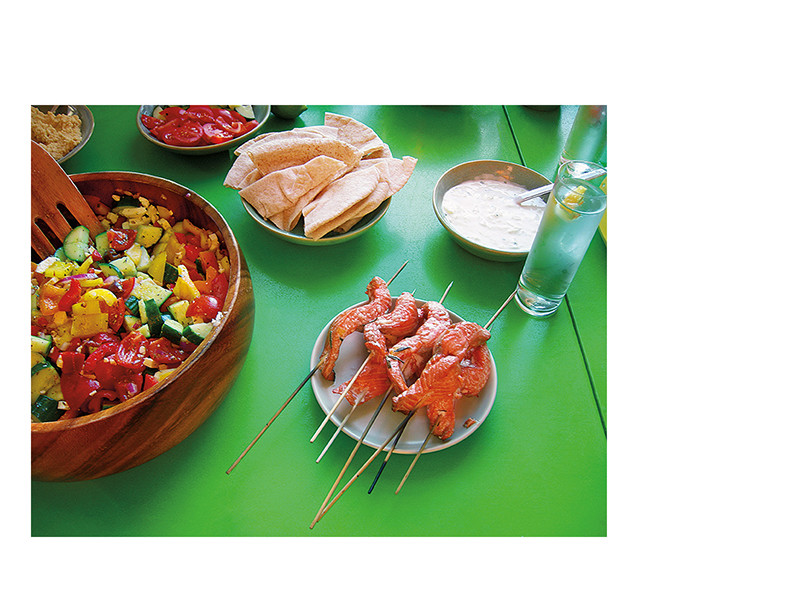 GREEK NIGHT IS A SUPER VERSATILE MEAL TO SERVE TO FRIENDS OF DIVERSE DIETS! VEGAN, PESCETARIAN AND MEAT-LOVING GUESTS CAN ALL HAPPILY BUILD THEIR OWN SOUVLAKI DINNER!
SOUVLAKI CAN BE SERVED EITHER OF 2 WAYS: ON THE SKEWER, ON A BED OF RICE, WITH GREEK SALAD, TZATZIKI AND A ROASTED POTATO (RESTAURANT STYLE); OR OFF THE SKEWER, WRAPPED IN A PITA WITH SLICED TOMATOES AND CUCUMBERS AND TZATZIKI (STREET VENDOR STYLE). EITHER WAY, EVERYBODY'S HAPPY ON GREEK NIGHT!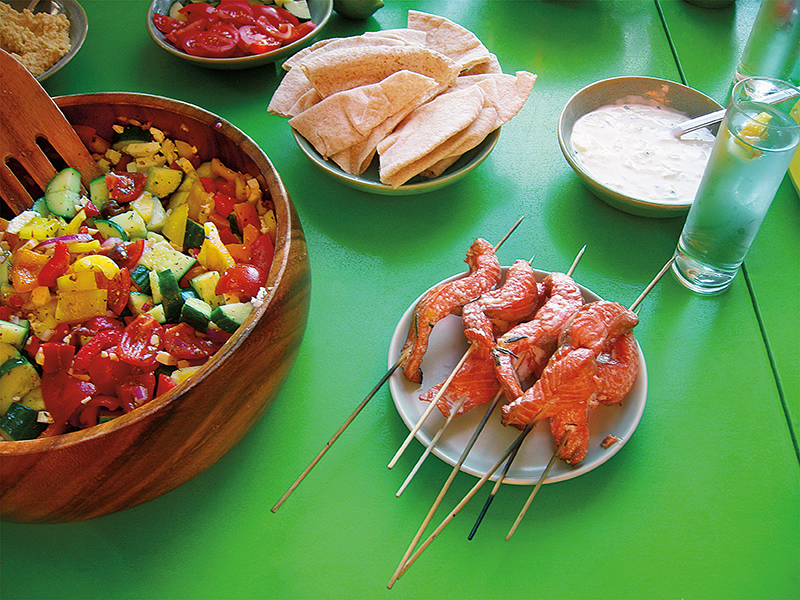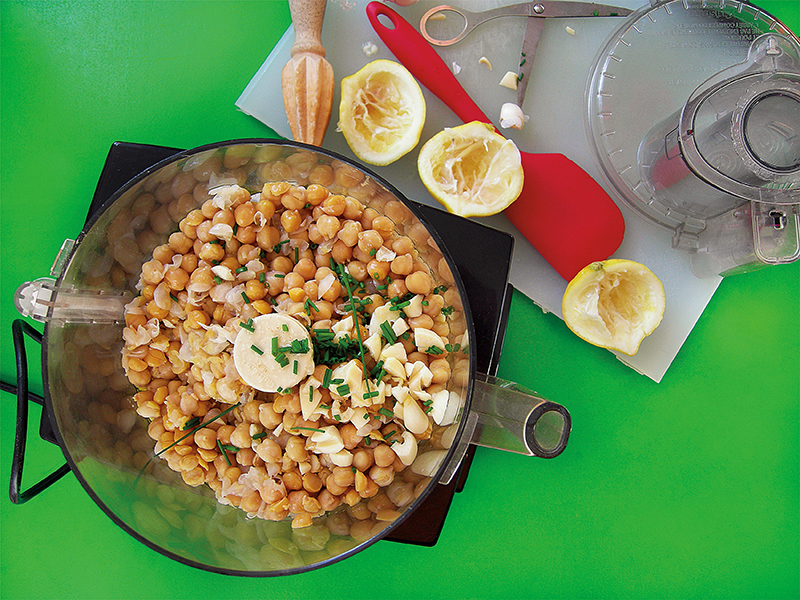 HUMMUS
Garlic, can of chickpeas, olive oil, lemon juice, salt and paprika powder.
OPTIONS: tahini paste; cumin seeds; almonds, cashews or walnuts; chives or green onion.
Hummus is full of super foods! It's also a great way to add flavour and protein to a vegetarian sandwich or morning toast!
Finely dice 2-3 (or more!) cloves of garlic.
Drain and rinse a can of chickpeas.
Combine in a bowl and mash with a potato masher or pulse in a food processor with a few good splashes of olive oil and lemon juice, and a good dash of salt. OPTIONS: add tahini, cumin, chopped nuts, or diced herbs.
Serve dusted with paprika.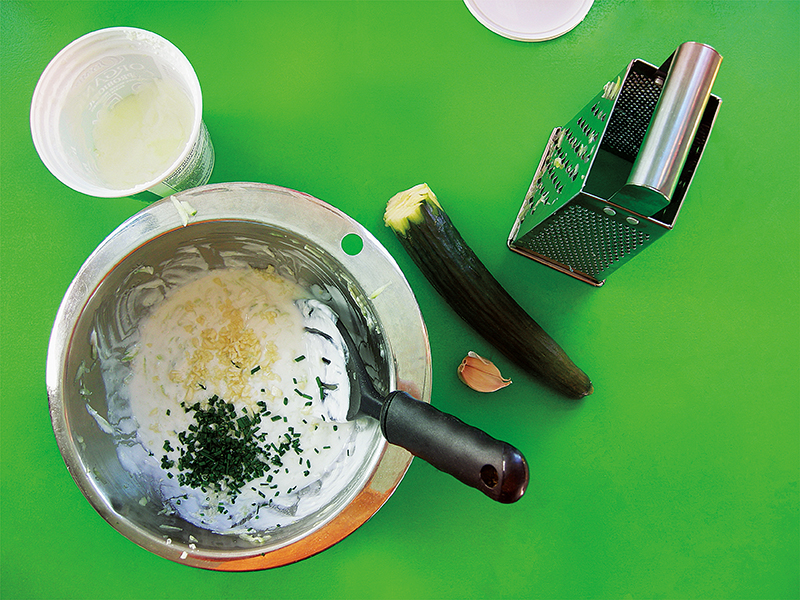 TZATZIKI
Dill or chives, garlic, cucumber, yogurt (pressed or Mediterranean-style work best!) and salt.
Slice a small handful of dill or chives.
Finely dice 2 (or more!) cloves of garlic.
Grate a cucumber into a bowl and press out the excess juice with a slotted spoon (into a nearby gin and tonic!).
Combine in a bowl with a cup of plain yogurt and a good dash of salt.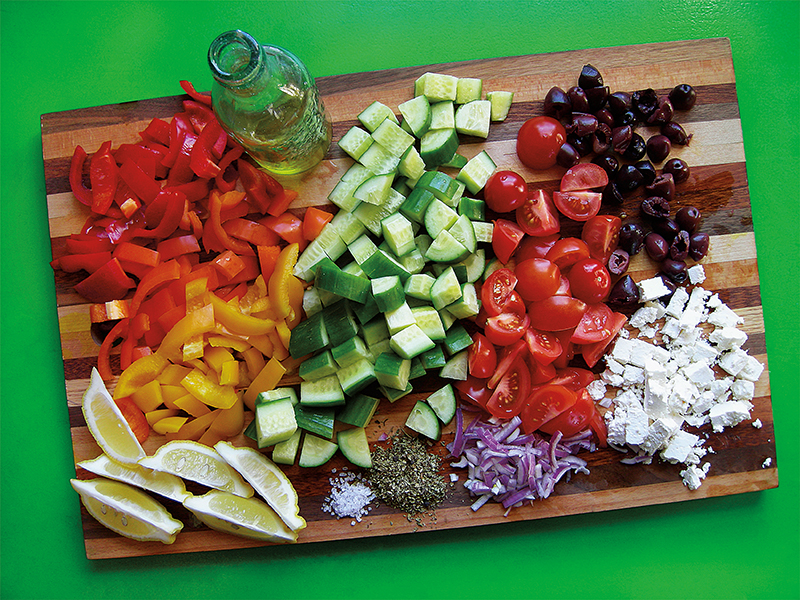 GREEK SALAD
Peppers, cucumber, tomatoes, kalamata olives, red onion, olive oil, lemon juice, dried oregano, salt and feta.
Chop 2 peppers, a cucumber and 2 medium-sized tomatoes (or a bunch of little ones).
Slice a handful of olives in half and remove stones (buy olives with the stone in- it keeps them fresher!).
Thinly slice 1/2 a small red onion.
Combine fruit and veg in a bowl and toss in a few good splashes of olive oil + lemon juice, and good dashes of oregano and salt.
Serve with crumbled feta.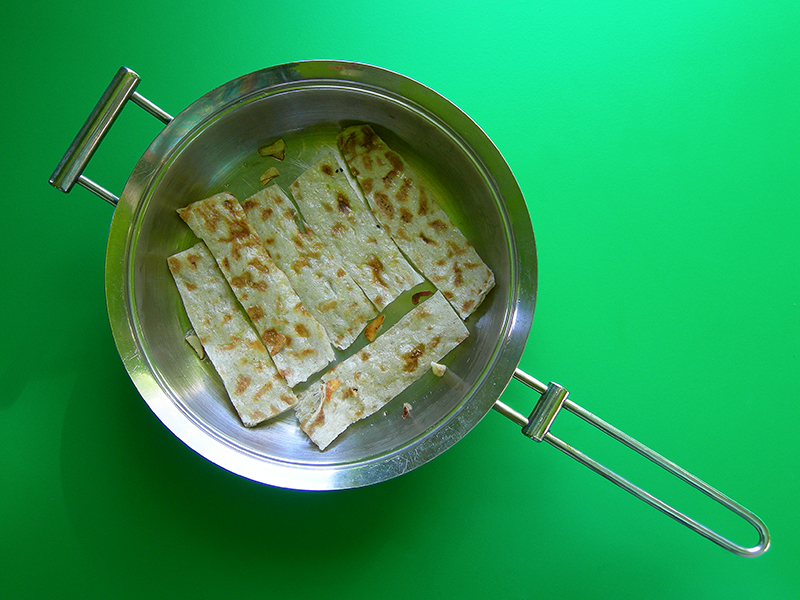 PITA
Pita or flatbread (our fave!), olive oil and garlic.
Pitas toasted in a little olive oil and sliced garlic with hummus or tzatziki is a great starter to have out when your guests arrive! A little snack food will keep everyone from getting too hungry while you're cooking the hot food!
Thinly slice 1-2 cloves of garlic.
Brush pitas on both sides with olive oil.
Start a pan on medium heat with a little splash of olive oil and a few slices of garlic (add more as you cook each pita).
Toast pitas on both sides.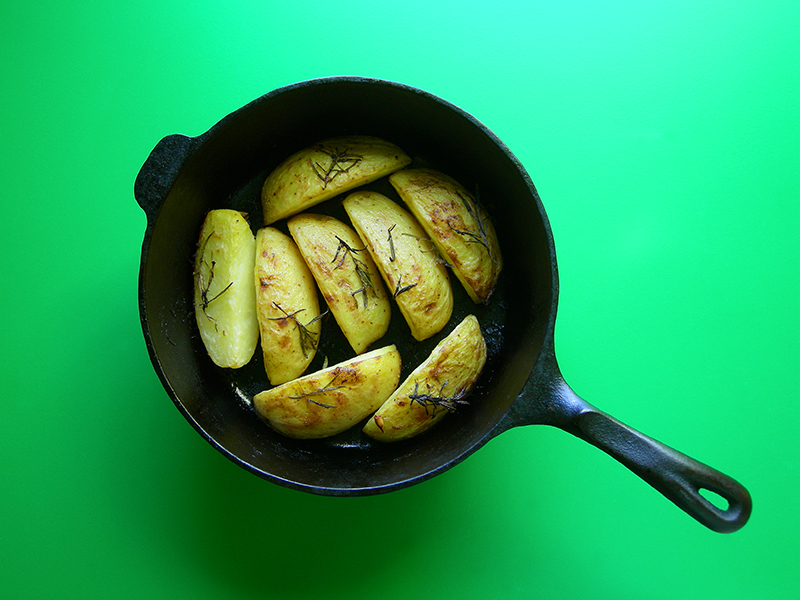 LEMON POTATOES
Potatoes, water, olive oil, lemon juice, rosemary and salt.
Chop a couple of large yellow or peeled russet potatoes into large cubes.
Boil in a pot of water on high heat until they're cooked about 1/2 way (still firm, but you can stick a fork a little way in).
Drain and let sit until the edges start to turn fluffy and white.
Marinate for an hour or so in a few good splashes of olive oil and the juice of 2-3 lemons, a few sprigs of rosemary and a dash of salt.
Preheat your oven to 425˚.
Drain your potatoes and arrange them in a cast iron pan or on a baking tray protected by sheet of parchment paper. Splash with olive oil and dash with salt and pepper, and roast until they break easily with a fork, about 30-40 minutes.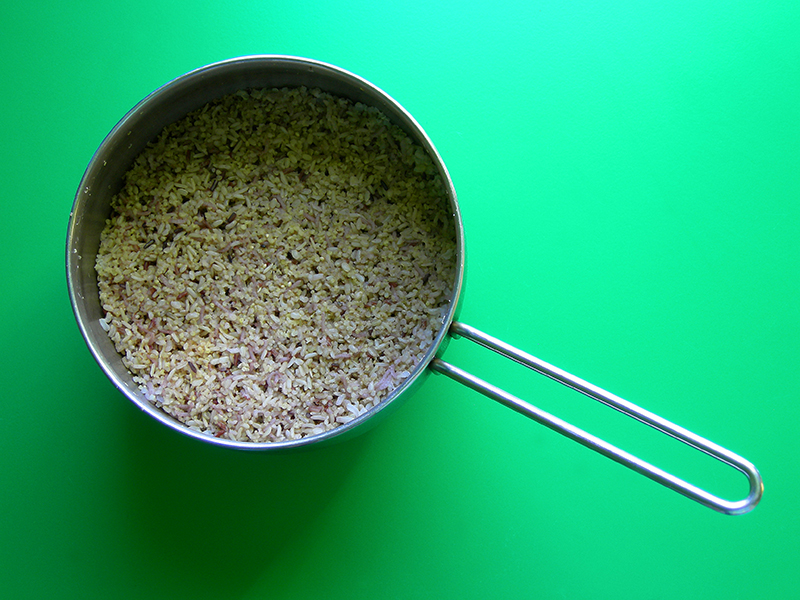 RICE
Rice, millet, water and salt.
Thoroughly rinse your rice.
Bring to a boil with a good dash of salt in a covered wide-bottom pot. Use a ratio of 1:1-1/2 rice:water for white rice, closer to 1:2 rice:water for brown.
Reduce heat to low and simmer white rice for 20 minutes, brown for 40-50.
Keep covered for an extra 5-10 minutes before serving.
At EVK we eat loads of short grain brown rice! Combine a big bag of short grain brown with regular bags of red Thai rice and millet (watch for tiny stones!) and a small bag (it's pricey!) of Winnipeg wild black rice. Great nutty taste, firm texture and a little different every bite- this rice mix is a fundamental element in most of our meals at home!
If you're a fan of white rice (try brown!), add a handful of black or red quinoa, for colour contrast and more nutrients!
You can also add flavour to your rice by sautéing garlic and onions or herbs and spices before adding the rice, water and salt; or by using veg or chicken broth in place of water!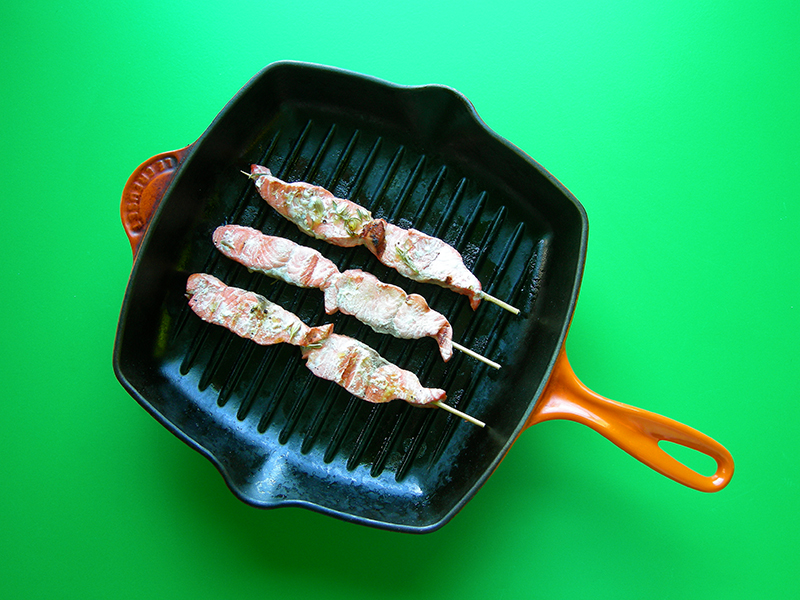 SOUVLAKI
Beef, chicken, halibut, lamb, prawns, salmon, tofu, etc.
MARINADE: olive oil, lemon juice, finely diced garlic, rosemary, dried oregano, salt and pepper.
Cut tofu, salmon, chicken, beef, etc, into strips or chunks (remove skin if necessary).
Toss your protein in a bowl with your marinade and let soak for an hour in the fridge, tossing occasionally (except seafood- a quick toss and it's ready to cook!).
Load your skewers and BBQ or broil them at 400˚, rotating occasionally, until cooked to desired tenderness. A grill pan on medium-high heat works too! Always thoroughly cook chicken- no pink!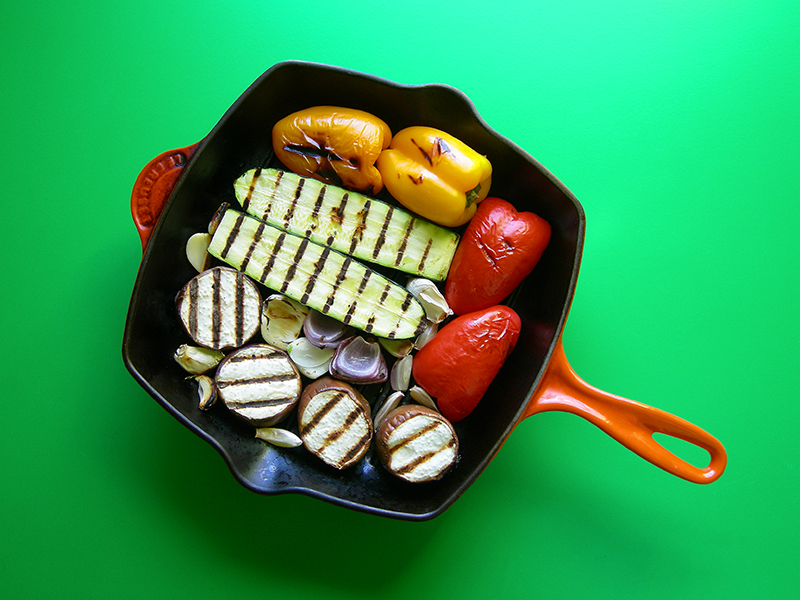 BBQ'D OR GRILLED VEG
Eggplant, garlic, onion, peppers, zucchini, etc.
OPTIONAL MARINADE: olive oil, lemon juice, finely diced garlic, rosemary, dried oregano, salt and pepper.
If you're making the deluxe edition of Greek Night, or if you're having lots of people over and you want lots of variety, BBQ or grill a few fresh vegetables and you're set!
If you're including eggplant, cut it into coins and sprinkle both sides with salt to draw out excess moisture and bitter taste. Let it sit for 15 minutes, then wipe the salt and droplets off, then repeat for the other side- they'll cook and taste way better!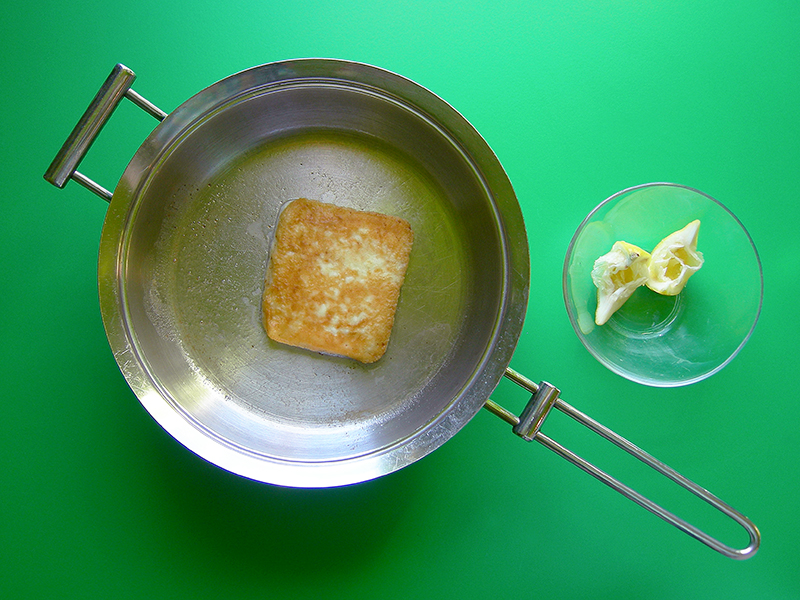 SAGANAKI
Saganaki, flour, olive oil and lemon juice.
The presence of saganaki definitely denotes a Deluxe Greek Night! Fried salty cheese with a squeeze of lemon juice tastes as good as it sounds!
Dust your slice of saganaki with flour on both sides.
Heat a pan with a splash of olive oil on medium high heat.
Add your cheese and fry on both sides until golden brown.
Serve with a squeeze of lemon.