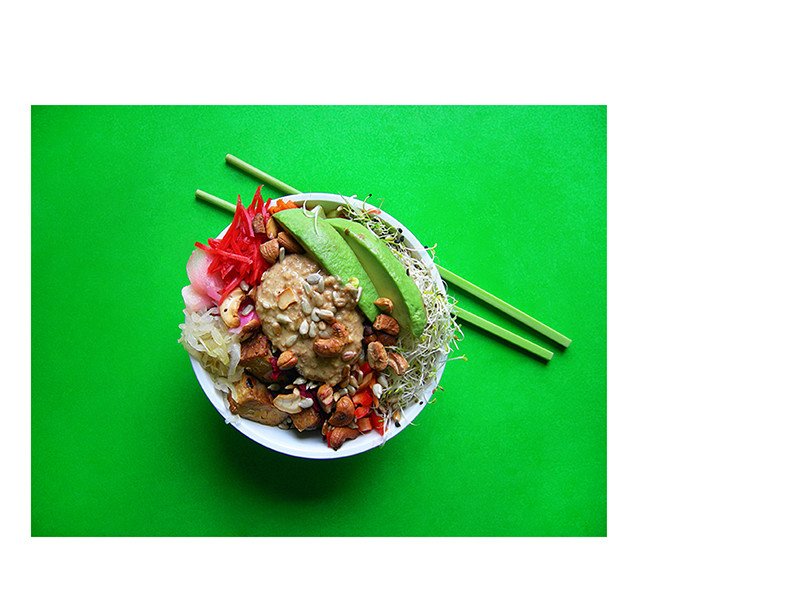 THIS VEGAN RICE BOWL HAS IT ALL:
CARBS, PROTEINS + HEALTHY FATS- ALL FROM MULTIPLE SOURCES!
LIVE SUPERFOODS: TEMPEH + SAUERKRAUT!
RAW SUPERFOODS: ALFALFA, AVOCADO, BEET, CARROT + RED PEPPER!
BROWN RICE!
NUTS!
MOST IMPORTANTLY, IT HAS TONS OF FLAVOURS + TEXTURES!
CHURN IT UP SO EVERY BITE IS DIFFERENT OR GO STATION-TO-STATION MAKING CAREFUL COMPOSITION EXPERIMENTS- EITHER WAY + FOR ANY MEAL OF THE DAY, THIS RICE BOWL IS A FUN HEALTHY MEAL!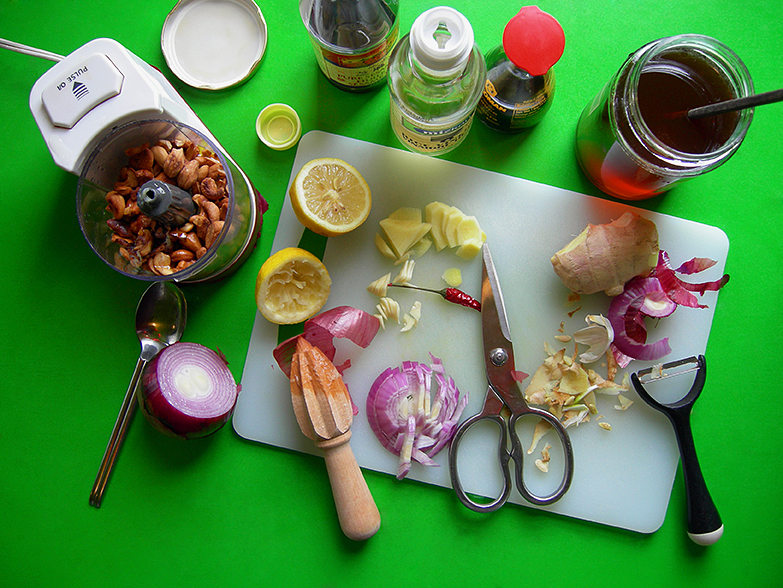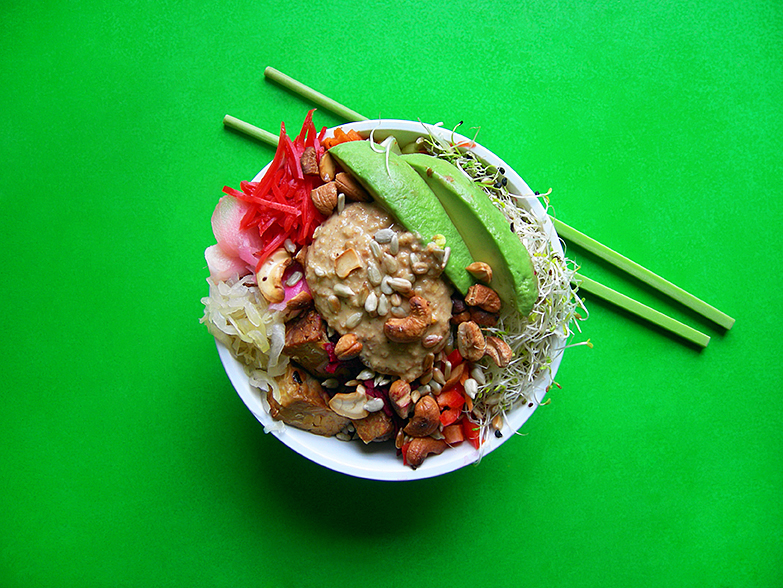 Print
CASHEW SAUCE
Ingredients
small handful of cashews
1 slice of red onion
1 clove of garlic
1-2cm of ginger
1/2 a Thai chili
olive oil
rice vinegar
soy sauce
1/2 a lime
maple syrup (or honey)
sesame oil
water
Instructions
Coarsely chop cashews and toast them in the oven at 325˚ for about 8 minutes.
Dice onion, garlic, ginger and chili.
Throw everybody in a mini food processor with a good splash of olive oil and splashes of rice vinegar, soy sauce and lime juice.
Add a little splash of maple syrup to reduce the acidic edge and 1 drop of sesame oil for scent.
Pulse to desired consistency.
Add water to thin if necessary.
Print
TEMPEH RICE BOWL
EVK's VEGAN Tempeh Rice Bowl with avocado, sauerkraut and pickled ginger!
SERVES 2
Ingredients
1/2 a brick of tempeh
handful of cashews
red pepper
1/2 a red onion
1 carrot
1/2 a beet
rice
water
salt
handful of sunflower seeds
oil
alfalfa sprouts
avocado
sauerkraut
sweet pickled ginger
salty pickled ginger
Instructions
PREP
Slice tempeh into triangles.
Coarsely chop cashews.
Thinly slice red pepper and onion.
Grate carrot and beet.
COOK
Boil and simmer 1 part brown rice to 2 parts water (1:1-1/2 for white rice) with a good dash of salt in a covered wide-bottom pot for about 40+ minutes (about 20 for white rice).
Toast cashews in the oven at 325˚ for about 5 minutes. Add a handful of sunflower seeds and toast for another 3 minutes.
Fry tempeh and onions in a good splash of oil, in a pan on medium heat.
SERVE
Half-fill bowls with rice and layer tempeh and onions over top.
Add grated carrot and beet; sprouts; sliced avocado; sauerkraut, pickled gingers; and nuts and seeds.
Drizzle with CASHEW SAUCE.