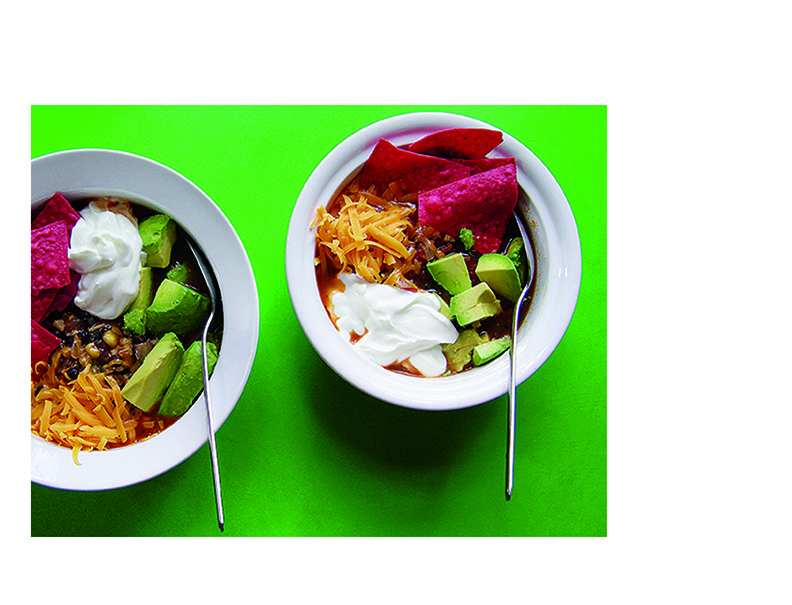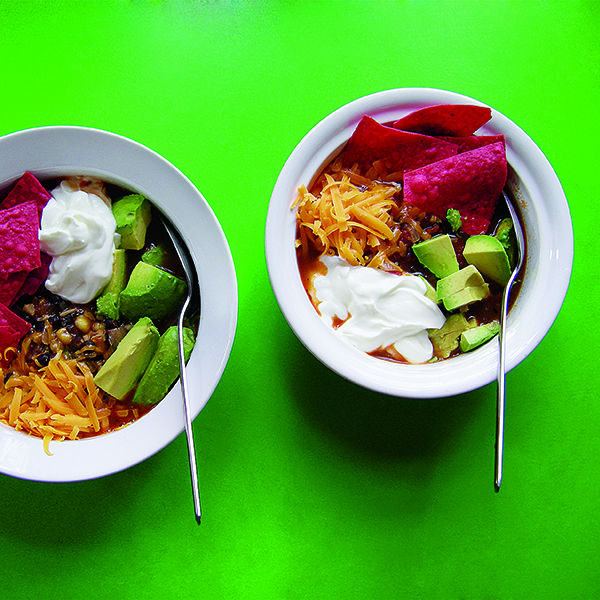 TORTILLA SOUP IS OUR FLAGSHIP DISH! THIS SPICY SOUP MAKES A HEARTY MEAL THAT GUESTS LOVE! IT'S ALSO INEXPENSIVE TO PREPARE! A VEGAN VERSION (WITHOUT YOGURT AND CHEESE) FEEDS 4 FOR A LITTLE OVER $10!
Print
TORTILLA SOUP
This hearty and spicy Tortilla Soup is our flagship dish! Make a vegan version by skipping the cheese and yogurt or try it for breakfast with a poached egg!
SERVES 4
Ingredients
large onion
4-5 cloves of garlic
small can of chipotle peppers in adobo sauce
veg or chicken broth: 2 cans of prepared broth or 2 bouillon cubes and 2 cups of hot water
oil
can of black beans
can of diced tomatoes
corn (fresh, frozen or canned)
Worcestershire sauce
Bragg's (or soy sauce)
lime
tortilla chips
yogurt
feta or cheddar
avocado
cilantro or green onions
Instructions
PREP
Chop the ends off your onion, slice it in half and peel off the papery layers.
Crush, peel and dice your garlic.
Purée chipotle peppers in adobo sauce in a mini food processor, with a submersion blender, or by chopping as finely as you can. You won't need all of it, but it keeps for a long time in a sealed jar in the fridge.
COOK
If you're using bouillon cubes, boil a kettle of water.
Burn the onion halves cut side down directly on your element or burner until nicely singed. Allow them to cool and then dice them.
Pan-fry onions and garlic in a good splash of oil, in a deep pot on medium heat.
When your onions soften, add the black beans and diced tomatoes including the liquids.
Add corn.
Add cans of broth or bouillon cubes and hot water.
Add chipotle purée, Worcestershire sauce, Bragg's and lime juice to your taste.
Bring your soup to a nice heat before serving but try not to boil it!
SERVE
Break some tortilla chips in a bowl and pour your soup over top.
Add yogurt; crumbled feta or grated cheddar; sliced avocado and chopped cilantro or green onions to your liking.