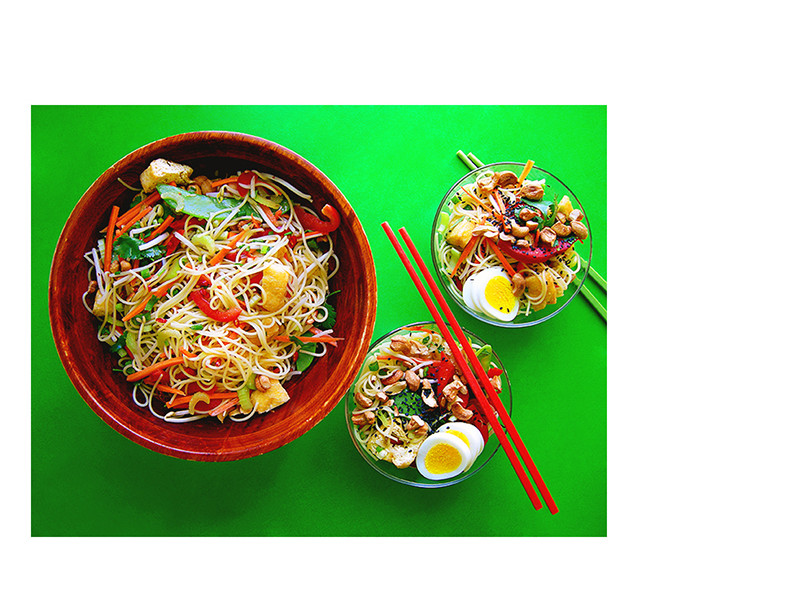 THIS THAI-INSPIRED NOODLE SALAD IS FULL OF BEAUTIFUL COLOURS AND CONTRASTING TEXTURES! THE OIL AND RICE VINEGAR DRESSING BRINGS THE INGREDIENTS TO LIFE WITH BRIGHT, SPICY, CITRUSSY FLAVOUR!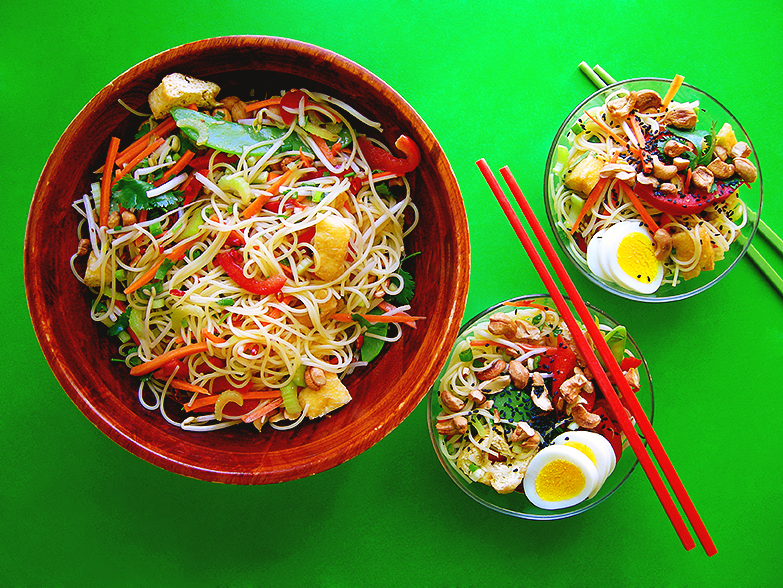 Print
OLIVE OIL AND RICE VINEGAR SALAD DRESSING
East Van Kitchen's bright, spicy, Thai-inspired Olive Oil and Rice Vinegar Salad Dressing! Checkout our post on Making Salad Dressings!
Ingredients
olive oil
rice vinegar
apple cider vinegar
lime juice
1cm of ginger
1/2 a Thai chili
soy sauce (or Bragg's or fish sauce)
maple syrup (or honey)
sesame oil
Instructions
Pour a few good splashes of olive oil into a jar, blender or mini food processor.
Add a good splash of rice vinegar, and splashes of apple cider vinegar and lime juice.
You want to have a ratio of about 3 parts oil to 1 part acid (the vinegars and lime juice).
Add a small piece of ginger + 1/2 a Thai chili, both finely diced.
Add a splash of soy sauce + a little splash of maple syrup to take the acid edge off.
Add a drop of sesame oil for scent.
Seal your jar and shake, or whiz with a blender, submersion blender or mini food processor.
Taste your dressing and balance it by adding more of whatever you think it needs; it should taste clean and bright with spicy kick from the ginger and chili, and smell beautiful from the lime juice and sesame oil!
At the very last minute before serving your salad add the dressing a little at a time, tossing as you go. You don't need to use everything you've prepared, it'll keep for a bit in a sealed jar in the fridge. 'Less dressing, more tossing' is the mantra for salad success!
Print
THAI NOODLE SALAD
EVK's Thai Noodle Salad Recipe! This brightly coloured and bright tasting salad makes a great lunch or BBQ contribution!
SERVES 4
Ingredients
 a handful snow peas
 3-4 stems of cilantro
handful of cashews
2 stalks of celery
1 red, orange or yellow pepper
1/3 of a pack of puffed tofu
2-3 green onions
1 carrot
water
2 eggs
olive oil
salt
spaghetti noodles
bean sprouts
sesame seeds
Instructions
PREP
Trim snow peas.
Tear the leaves off cilantro.
Coarsely chop cashews.
Slice celery, pepper, tofu and green onions.
Julienne carrot.
COOK
Blanch your snow peas in boiling water for 10 seconds, then rinse them under cold water.
Boil eggs in a small pot on high heat. When they're at a rolling boil, turn off the heat, put a lid on  and let them sit for 6 minutes. Then rinse under cold water and peel.
Boil water with a splash of olive oil and a dash of salt in a medium-sized pot on high heat. Add noodles and cook extra firm (the dressing will soften them more later!).
Toast cashews in the oven at 325˚ for about 8 minutes.
SERVE
Throw noodles, fruit, veg and tofu in a bowl and toss in OLIVE OIL AND RICE VINEGAR DRESSING.
Portion out in bowls and top with sliced boiled egg, bean sprouts, cashews and sesame seeds.