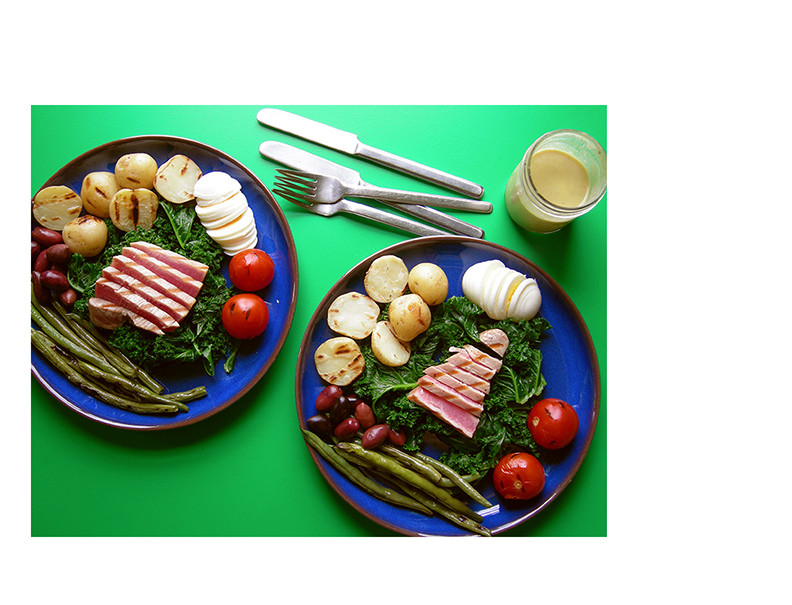 MODEST NEEDS, LAVISHLY MET! THIS IS OUR WEST COAST TAKE ON A CLASSIC FRENCH TUNA, TOMATO, EGG, OLIVE AND ANCHOVY SALAD!
A SMALL PIECE OF FRESH OR CANNED TUNA IS ALL YOU WILL NEED FOR 2 PEOPLE! LOOK FOR OCEAN WISE, DOLPHIN FRIENDLY, ETC MARKED FISH- LET'S EAT SUSTAINABLY SO FUTURE GENERATIONS CAN TOO! A COUPLE OF BOILED EGGS FILL OUT THE REST OF THE PROTEIN SECTION, POTATOES PROVIDE FILLING CARBS, AND HEALTHY FATS CAN BE FOUND IN THE OLIVES, ANCHOVIES AND TUNA! (CHECKOUT OUR SUPERFOODS PAGE FOR MORE INFO!)
THIS HEARTY FARMHOUSE-INSPIRED VERSION IS ALSO FULL OF VEGETABLES YOU CAN GROW IN YOUR GARDEN! TOMATOES, POTATOES, GREEN BEANS AND KALE GIVE THE PROUD GARDENER AN EXCELLENT OPPORTUNITY TO GLORY IN THE FRUITS OF WATER, SUNSHINE AND HAPPY HARD WORK!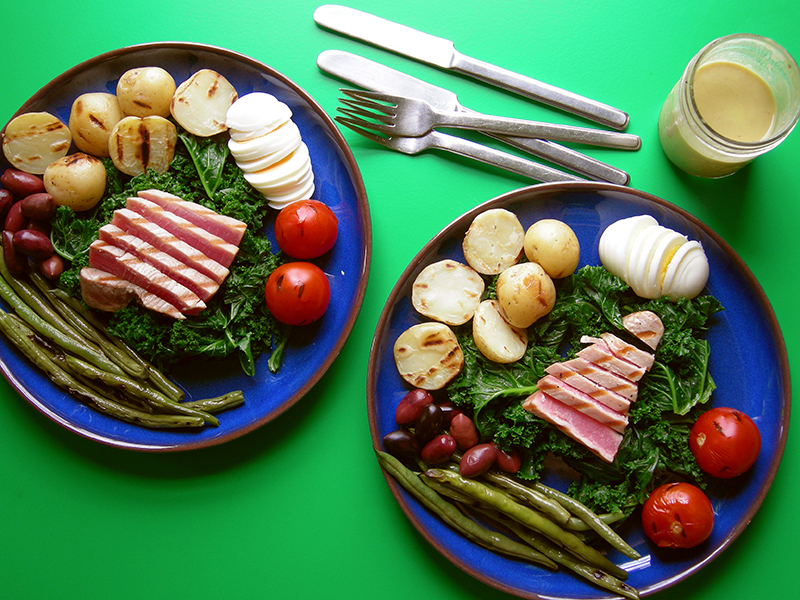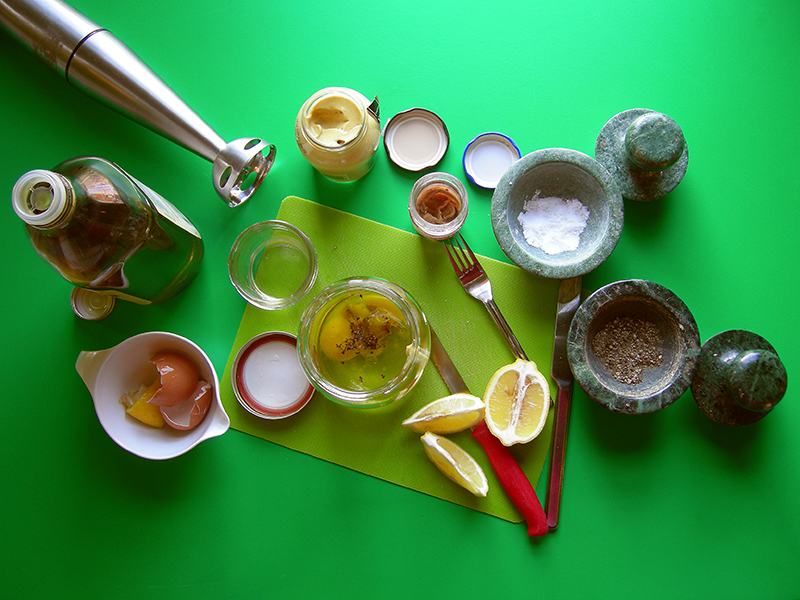 DRESSING: Olive oil, white wine vinegar, dijon mustard, anchovy fillets (we buy the kind that come in oil in a mini jar), salt, pepper, lemon juice and egg yolk. OPTIONS: shallots, garlic, yogurt.
Pour a few good splashes of olive oil into a jar with a splash of white wine vinegar and a squeeze of lemon juice. You want about 3 parts oil to 1 part acid.
Add an egg yolk, 2 or 3 anchovy fillets, a little bit of dijon and a good dash of salt and pepper.
You can also add a finely sliced shallot or clove of garlic to fill it out; or yogurt, if you want a milder, creamier dressing.
Blend in a blender or mini food-processor; buzz with a submersion blender; or whip with a whisk (finely slice your anchovies first in this case!).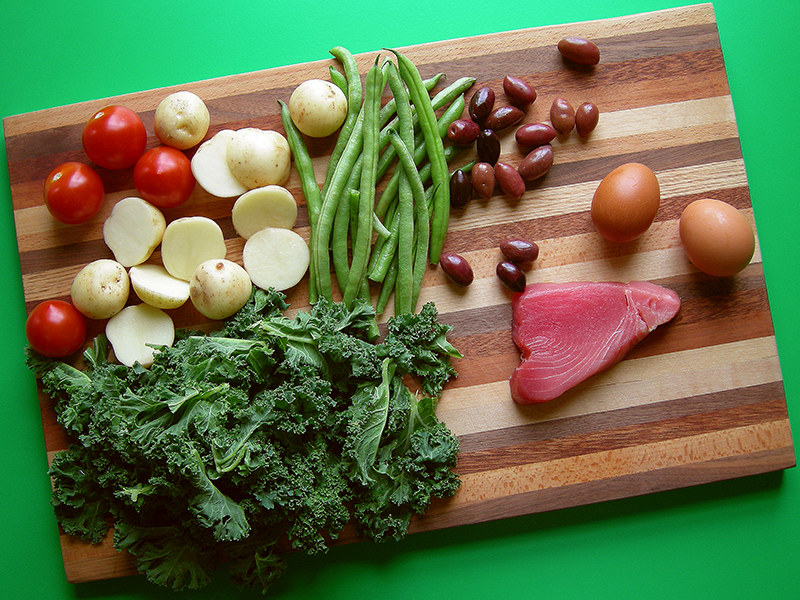 SALAD: Tomatoes, potatoes, green beans, olives (the salad is named for Niçoise olives; we usually use Kalamata!), eggs, tuna (fresh or canned) and kale.
Trim the ends off a handful of green beans.
Chop kale leaves into good-sized pieces and remove the tough stalks.
Chop a few potatoes to desired size.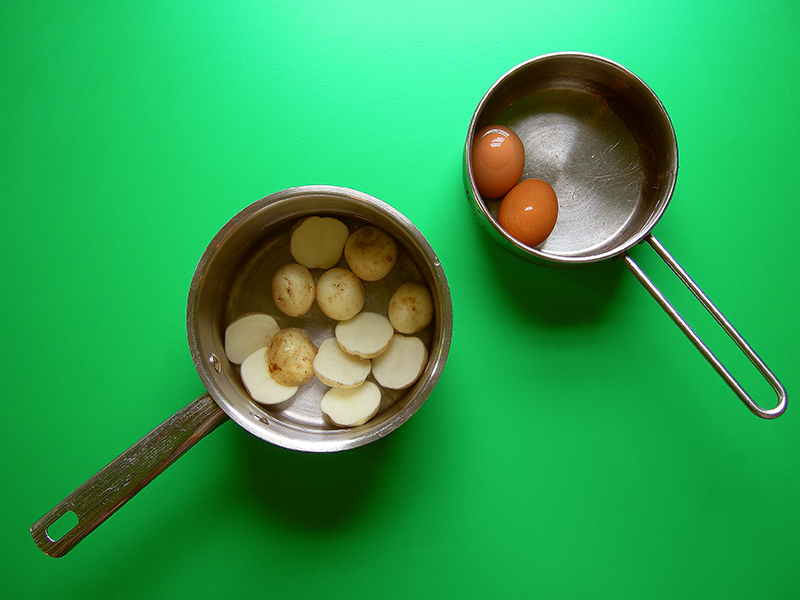 Boil potatoes in a medium-size pot until they're about half-cooked- a fork goes in a little way, but the potato doesn't break! Remove with a slotted spoon or a pair of tongs. Keep the hot water.
AT THE SAME TIME:
Place 1 egg per person in a small pot and fill with water to just above the eggs. Bring to a boil. Cover and turn off heat. Let sit for 6 minutes. Drain, rinse under cold water, and peel off the shells. Slice in half.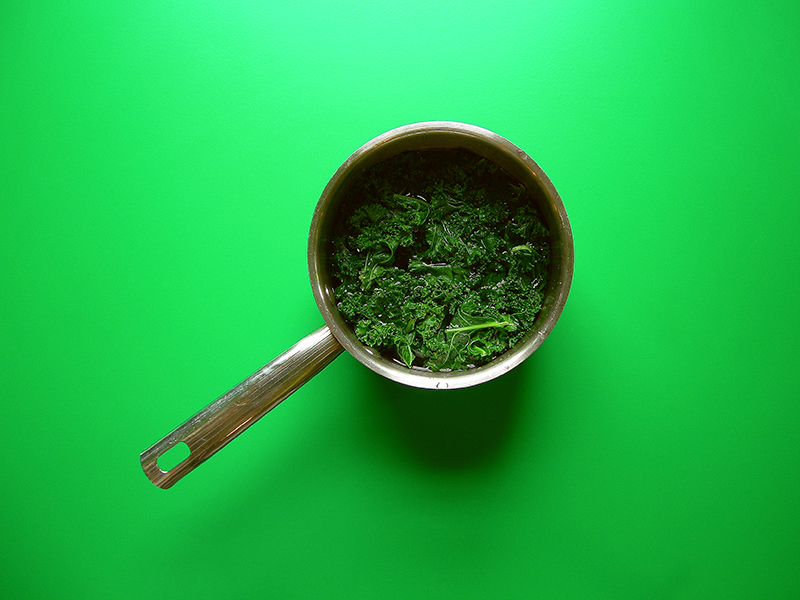 Blanch your kale for about 10 seconds in the potato water while it's still really hot! The leaves will quickly turn a deeper shade of green-when they do, strain them and set them aside.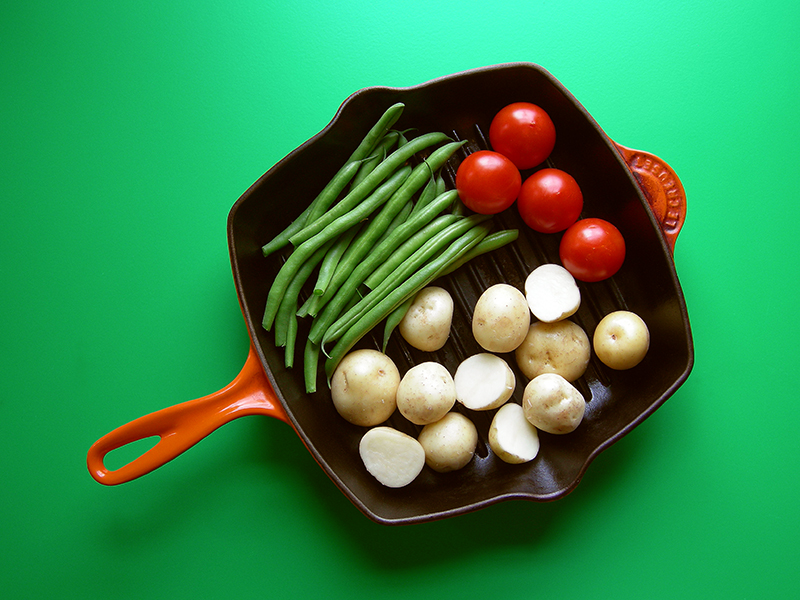 Start your grill pan on medium-high heat. When a spritz of water sizzles right away, lay out your beans, tomatoes and par-boiled potatoes and cover with a lid.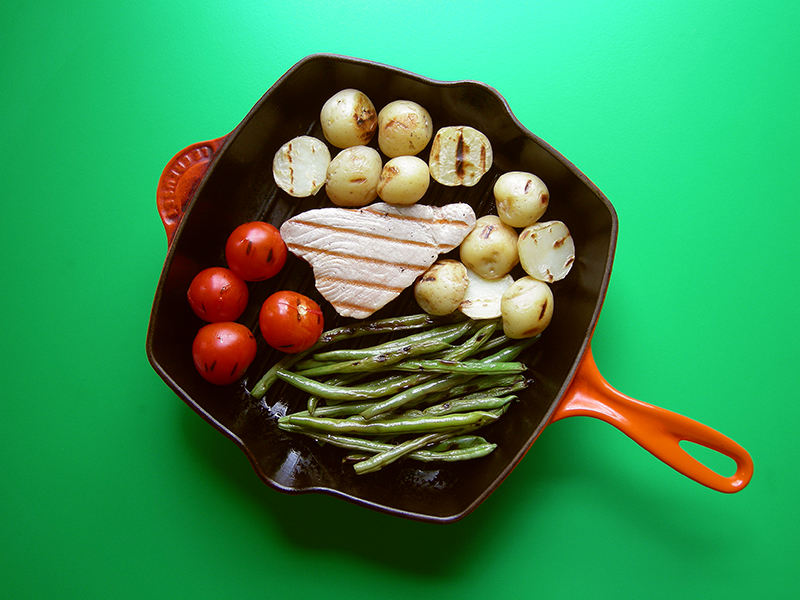 When you feel like your veg is about half-cooked, flip everybody over and make a space in the middle of your pan (the hottest spot) for your fish (if you're using canned tuna skip this step, your fish is ready-to-go!). Place your fish, cover, and watch it carefully- it will be ready to flip after 2 minutes or so if your pan is hot enough!
Flip your fish and put the lid back on. While it's finishing up, layout a bed of kale, a sliced egg and a few olives on each plate.
When the fish is done to your taste, thinly slice and lay the slices on your kale beds. Add the grilled veg all around and drizzle the whole scene with your dressing and a dash of salt and pepper and serve!