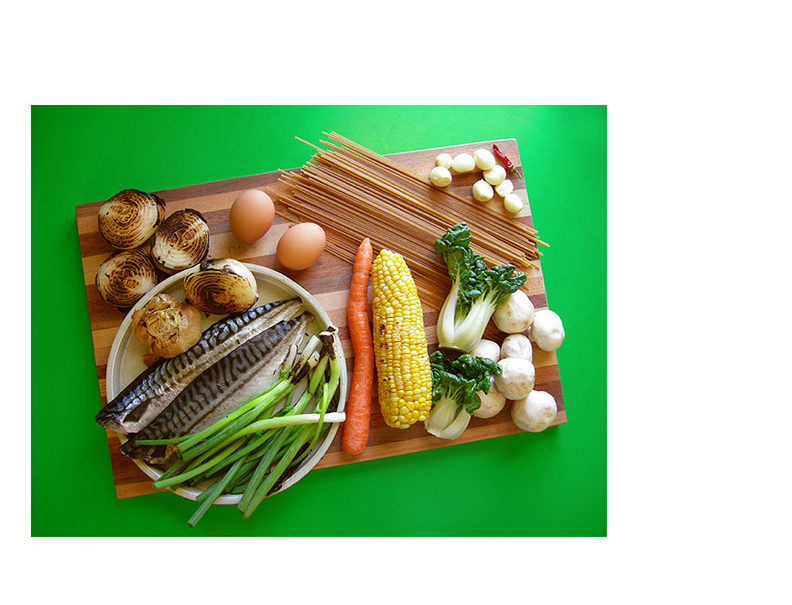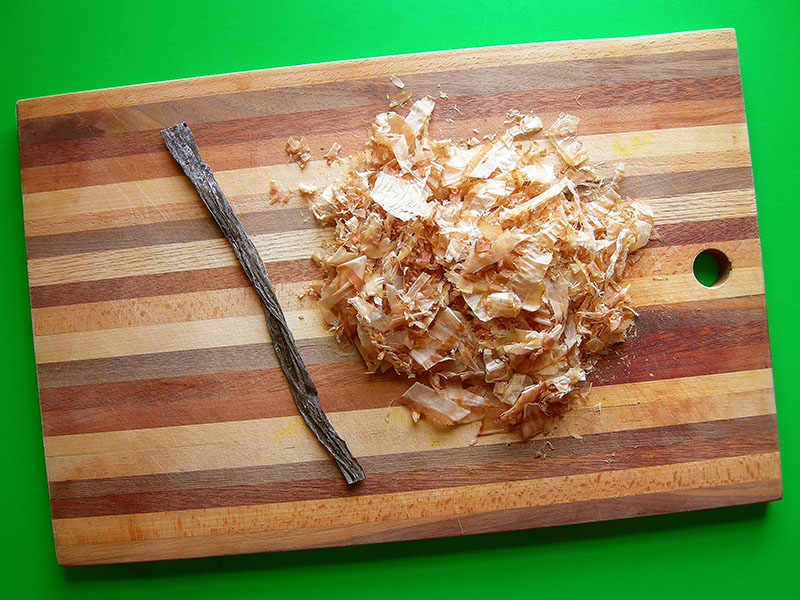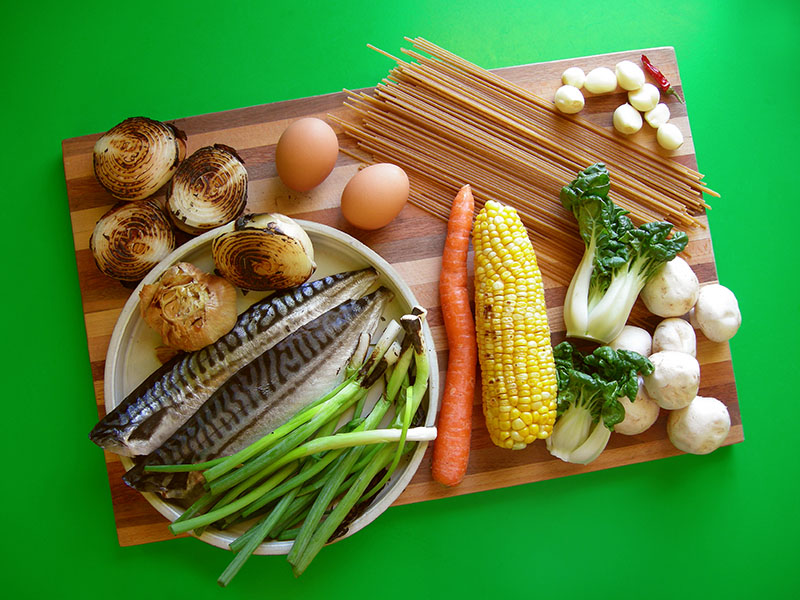 THIS RICH SHOYU RAMEN GOES STRAIGHT TO YOUR BRAIN! AFTER EATING A BOWL OF THIS HOMEMADE FISH BROTH-BASED SOUP YOU WILL BE IN A PLEASANTLY FUZZY STATE OF MIND AND MAY FIND THAT THE RICH FISH FATS ALSO GIVE YOU AN INCREDIBLE SLEEP! THIS SOUP IS A MAJOR FALL MOOD-MAINTENANCE FOOD HERE AT EVK!
Print
PESCETARIAN SHOYU RAMEN
Make your own rich fish broth with our Pescetarian Shoyu Ramen recipe!
Ingredients
water
1 piece of dried kombu
2 medium-sized onions
3-4 green onions
2 mackerel fillets
2 handfuls of katsuo-bushi flakes
soy sauce ('Shoyu' in Japanese)- we highly recommend Kikkoman for this recipe!
salt
sesame oil
noodles (we usually use whole wheat spaghetti noodles!)
1 sheet of nori
1 carrot
OPTIONAL TOPPINGS- add to bowls before pouring broth over top or serve each in it's own dish.
baby bok choy- blanch briefly to soften, then marinate in soy sauce with a splash of sesame oil.
can of bamboo shoots- you'll only need a few shoots per person so a can goes a long way!
bean sprouts- blanch briefly to soften, then marinate in soy sauce with a splash of sesame oil.
fresh or frozen corn- boil to desired tenderness, cut the kernels off the cob if you're using fresh corn, then marinate in soy sauce with a splash of sesame oil.
baked garlic bulb- slice the top off a bulb, drizzle with oil and wrap in foil. Bake at 375˚ for 45 minutes. Allow to cool, separate cloves and remove their jackets.
garlic chips- slice 6-7 garlic cloves lengthways into 3-4 slices. Fry in a good splash of oil on medium heat until lightly brown and crispy. Remove your chips and let them dry out. Pour the oil into your broth.
pea shoots- add a few pea shoots as a garnish.
shiitake mushrooms- cut into thirds and boil to desired tenderness in a little water with a good splash of soy sauce and a quick splash of sesame oil.
Instructions
Rinse or wipe kombu and drop it in a deep pot of water on medium-low heat.
Cut cooking onions in half.
Trim green onions and cut them at the transition from green to white. Finely slice the green ends for a garnish, leave the white ends whole.
Burn the cut sides of the cooking onions and the white ends of the green onions directly on your element or burner until nicely singed. Then add them to your water.
Cut your mackerel fillets into thirds and add the tail thirds to your water. Keep the rest to grill, bake or BBQ.
When the kombu starts to get slimy remove it, add katsuo-bushi flakes and turn the heat up to medium. Simmer for 20 minutes.
When the onions are clear and the fish falls apart when you pick it up, strain the solids out of your broth and return the liquid to the pot. Chuck the solids.
Add soy sauce (lots!), salt and sesame oil (not too much!) to taste.
FILLETS
Grill, bake or BBQ your remaining pieces of mackerel to desired doness. If you grill or BBQ them, do them on both sides. If you bake them, bake them skin side up in a cast-iron pan or on a sheet of parchment paper protecting a baking sheet at 350˚. Pour any liquid fat from the pan or parchment into your broth!
Remove skin and any bones and set aside for serving.
NOODLES
Bring a medium-sized pot of water to a boil with a splash of oil and a dash of salt.
Add noodles and cook al dente- they'll soften up more in your bowl!
VEG
Cut nori into quarters with a pair of kitchen scissors. You want 4 big squares.
Julienne carrot.
SERVE
Place noodles in a bowl, add additional veg and arrange them attractively.
Ladle in broth while it's super hot so the veg and noodles soften a little while you eat!
Lay 2 pieces of mackerel and 2 halves of boiled egg on top and serve.