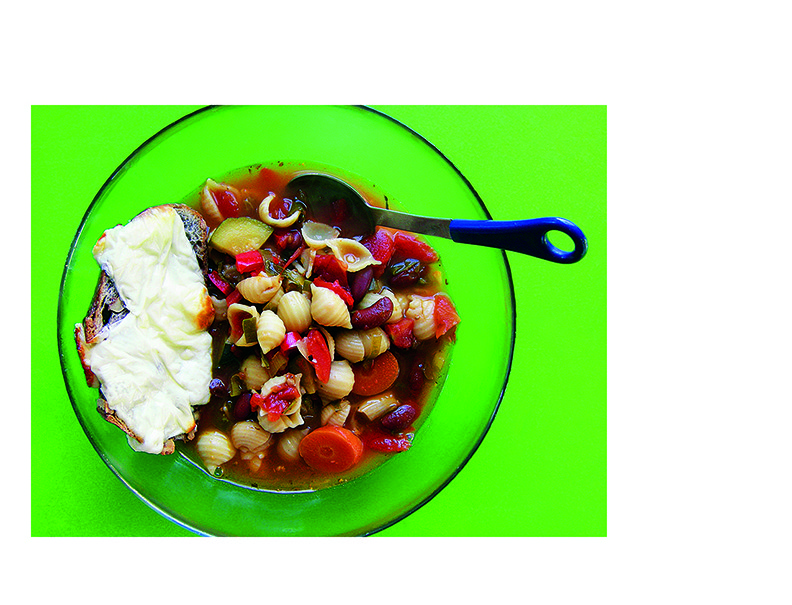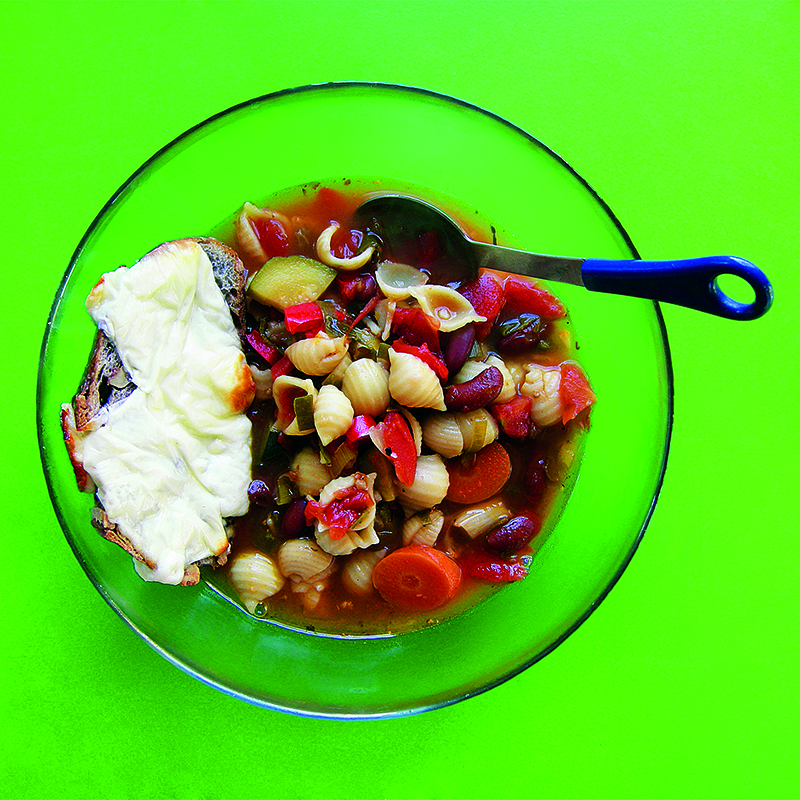 MINESTRONE IS A CLASSIC ITALIAN ALL-SEASON COMFORT SOUP THAT CAN EASILY BE MADE VEGAN! IT'S A GREAT WAY TO USE UP OLD VEG IN YOUR FRIDGE, ODD BITS OF BROKEN PASTA AND CHEESE RINDS (SAVE THEM FOR THIS SOUP)! SERVE WITH A PIECE OF CHEESE TOAST FOR DIPPING!
Print
CHEESE TOAST
Ingredients
bread (1 piece per person)
1 clove of garlic
butter
mozzarella cheese
Instructions
Toast pieces of bread.
Cut garlic in half and rub the toast with the cut side.
Butter and top with sliced or grated mozzarella.
Broil in oven with the rack in the highest position at 500˚ for about 3 minutes.
Print
MINESTRONE
EVK's take on the classic Italian all-season comfort soup- a tasty way to clear out your fridge and pantry!
Ingredients
handful of basil
1 medium-sized onion
2 carrots
2 stalks of celery
1 red pepper
seasonal veg like: cauliflower, corn, kale, leeks, peas, zucchini, etc!
4-5 cloves of garlic
1 small can of chipotle peppers in adobo sauce
water
olive oil
dried oregano
salt
pepper
1 can of kidney beans (red beans) and/or a can of chickpeas (garbanzo beans)
1 can of diced tomatoes
veg or chicken broth: 2 bouillon cubes or 2 cans of prepared broth (watch out for MSG!)
parmesan rinds
Bragg's (or soy sauce)
Worcestershire sauce (or Chinese black vinegar-a great vegan alternative to Worcestershire!)
Cholula (or Louisiana-style) hot sauce
shell, macaroni, or broken short ends of pasta
Instructions
PREP
Tear basil.
Slice onion in half.
Chop carrots, celery, red pepper and any seasonal veg that seem to fit.
Dice garlic.
Purée chipotle peppers in adobo sauce in a mini food processor, with a submersion blender, or by chopping as finely as you can. You'll only need a tablespoon or 2!
COOK
Boil a kettle of water and let it cool a little.
Burn the onion halves cut side down directly on the element or burner until they're nicely singed. Let them cool then dice them.
Fry onions and garlic in a good splash of olive oil, in a deep pot on medium-low heat.
Add dashes of oregano, salt and pepper.
When onions soften, add carrots, celery, basil and seasonal veg (except leafy greens like kale, add them close to the end so they don't turn to mush!).
When carrots start to soften, add beans and diced tomatoes (liquids too), bouillon cubes or cans of broth.
Add parmesan rinds.
Add hot water 'til you've got about the right amount of soup.
Add splashes of chipotle purée, Bragg's, Worcestershire, and Cholula to taste.
Add pasta and simmer until noodles are cooked al dente (cooked but still firm).
Remove parmesan rinds.
Serve with CHEESE TOAST.