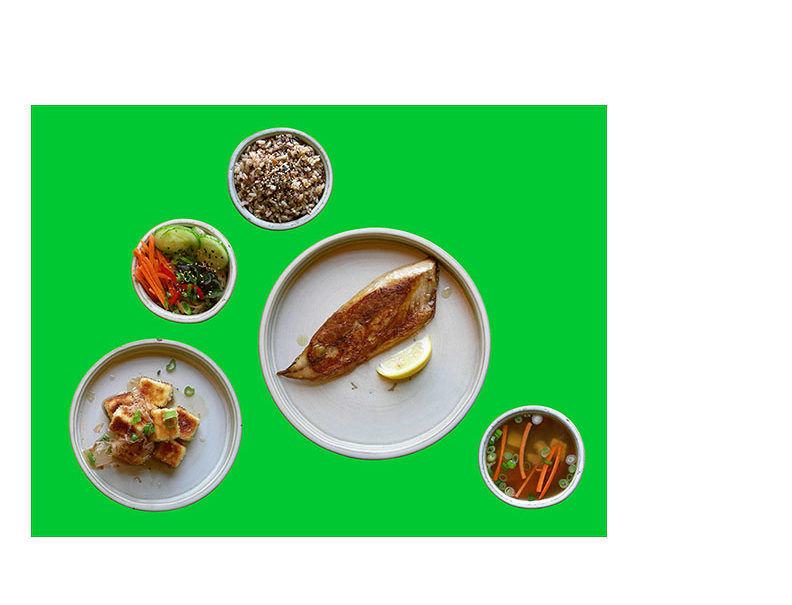 IN THE NEW YEAR WE MAKE A LOT OF JAPANESE HOME FOOD-INSPIRED MEALS TO CLEANSE OUR BODIES (AND SPIRITS) OF ALL THE CELEBRATION FOOD (AND SPIRITS!) WE'VE ENJOYED AS THE OLD YEAR CAME TO A CLOSE! IT'S NO SURPRISE THAT JAPANESE PEOPLE ENJOY SUCH GREAT HEALTH AND LONGEVITY WITH THEIR SEAFOOD, RICE AND FERMENTED FOOD-RICH DIET! YOU CAN MAKE BEAUTIFUL JAPANESE-INSPIRED FOOD AT HOME IF YOU STOCK A FEW VERSATILE INGREDIENTS (SEE BELOW!) AND CONSIDER A FEW BASICS FOR YOUR OWN JAPANESE NIGHT:
A BASIC JAPANESE MEAL HAS 3 ELEMENTS: A BOWL OF RICE, A BOWL OF SOUP AND A SIDE DISH. ADD MORE SIDE DISHES TO FEED MORE PEOPLE!

DASHI IS THE CHICKEN BROTH OF JAPANESE CUISINE! IT'S IN ALMOST EVERYTHING! DASHI IS A BROTH MADE BY SOAKING DRIED KOMBU (A SEAWEED) AND THEN SIMMERING KATSUO-BUSHI FLAKES (SHAVED SMOKED TUNA) OR DRIED SHIITAKE MUSHROOMS (FOR VEGAN DASHI), THEN FINELY STRAINING EVERYBODY OUT, LEAVING A CLEAR LIQUID! IF YOU'RE SHORT ON TIME, YOU CAN USE POWDERED DASHI!

SIMPLICITY STANDS OUT! SEE AND TASTE EVERY COLOUR AND FLAVOUR THAT YOU'VE INCLUDED! USE A LIMITED PALETTE OF FRESH, FLAVOURFUL INGREDIENTS AND TAKE CARE NOT TO OVER-COOK OR OVER-SAUCE THEM!
START YOUR JAPANESE PANTRY WITH:
KOMBU- SHEETS OR TWISTS OF DRIED SEAWEED FOR MAKING DASHI.
KATSUO-BUSHI FLAKES- SHAVED SMOKED TUNA FOR MAKING DASHI OR A FUN SHRINKING GARNISH!
DRIED SHIITAKE MUSHROOMS- FOR MAKING VEGAN DASHI.
PANKO- LIGHTER AND CRISPIER THAN BREADCRUMBS FOR BREADING AND FRYING THINGS!
WAKAME- DRIED SEAWEED THAT YOU REHYDRATE FOR SOUPS AND SALADS. A LITTLE TURNS INTO A LOT!
NORI SHEETS- FOR ROLLING SUSHI OR CUT INTO SQUARES OR MATCHSTICKS FOR A GARNISH.
SESAME SEEDS- TASTY ON ALMOST EVERYTHING!
SOY SAUCE- WE USE KIKKOMAN!
RICE VINEGAR- ADDS SOURNESS TO DRESSINGS, MARINADES AND SAUCES.
MIRIN- ADDS SWEETNESS TO DRESSINGS, MARINADES AND SAUCES.
SESAME OIL- ADDS A BITTER BUT RICH TASTE AND A BEAUTIFUL AROMA!
MISO- FERMENTED SOY BEAN PASTE ADDS UMAMI AND SALT TO SOUPS AND SAUCES.
SALTY PICKLED GINGER- A GREAT GARNISH FOR SWEET THINGS!
SWEET PICKLED GINGER- A GREAT GARNISH FOR SALTY THINGS!
FOR FURTHER READING ON JAPANESE HOME FOOD WE HIGHLY RECOMMEND 'MOMOFUKU' BY DAVID CHANG AND PETER MEEHAN; AND 'LET'S COOKING, JAPANESE COOKING AT HOME' BY FELLOW VANCOUVERITE HANA DETHLEFSEN, DESIGNED BY OUR FRIEND CHRIS VON SZOMBATHY!