GERMAN STYLE POTATO SALAD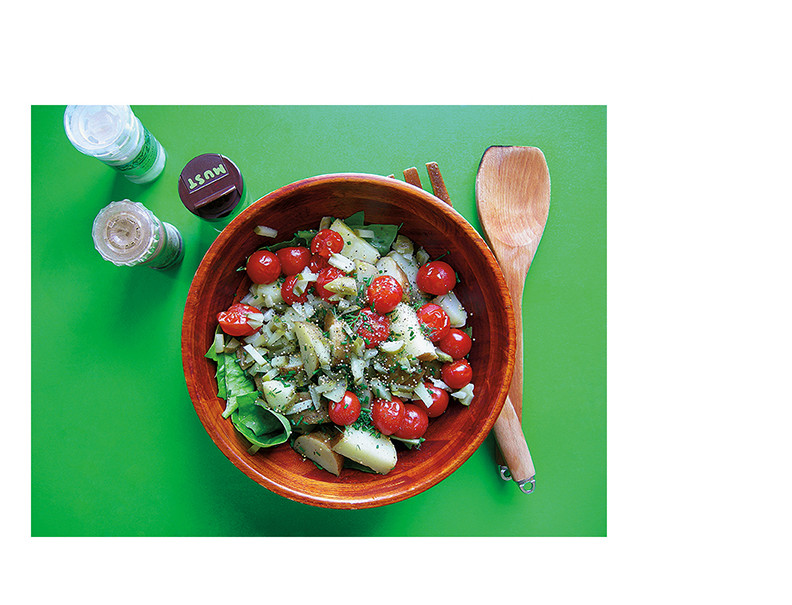 THEY HAVE POTATO SALAD IN GERMANY, ONLY IT'S BETTER! IT'S TRUE! THIS GERMAN-STYLE POTATO SALAD ('KARTOFFELSALAT') WITH VINEGAR-MARINATED POTATOES, MUSTARD SEEDS AND CHOPPED PICKLES IS A LOT MORE FUN! FILL IT OUT WITH SALAD GREENS, GRILLED ASPARAGUS OR ROASTED CHERRY TOMATOES; OR MAKE IT A MEAL BY ADDING A PROTEIN LIKE SLICED BOILED EGGS OR CHOPPED BACON!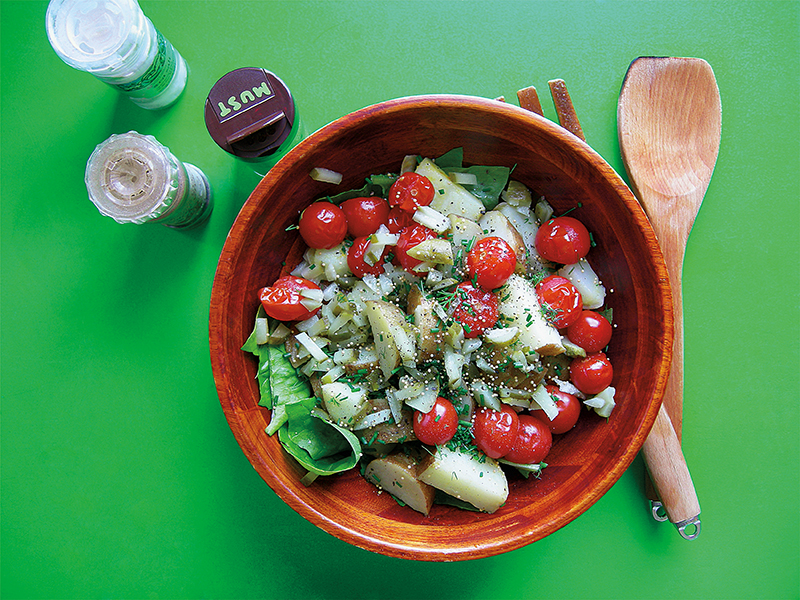 Print
OLIVE OIL AND WHITE WINE VIN MARINADE
Olive Oil and White Wine Vinegar Marinade for a German-Style Potato Salad! Checkout our post on Making Salad Dressings!
Ingredients
olive oil
white wine vinegar
rice vinegar
whole-grain or dijon mustard
mustard seeds
ground turmeric
salt
pepper
Instructions
Pour a few good splashes of olive oil into a jar, blender or mini food processor.
Add splashes of white wine and rice vinegar- you want to have a ratio of about 3 parts oil to 1 part acid.
Add a little mustard.
Add dashes of mustard seeds, ground turmeric (mostly for colour), salt and pepper.
Seal your jar and shake, or whiz with a blender, submersion blender or mini food processor.
Taste your marinade and balance it by adding more of whatever you think it needs.
Print
KARTOFFELSALAT (GERMAN-STYLE POTATO SALAD)
German-Style Potato Salad IS better!
SERVES 2-4
Ingredients
 3-4 potatoes
a few sprigs of dill
2-3 dill pickles
1 small red onion or a handful of chives
water
salt
OPTIONS
artichoke hearts
4-5 grilled asparagus
handful of salad greens
an egg per person
2-3 strips bacon
handful of cherry tomatoes (with olive oil, salt and pepper)
Instructions
PREP
Chop potatoes and dill.
Coarsely dice dill pickles and OPTIONAL artichoke hearts.
Dice red onion or chives.
OPTIONAL: snap the dry ends off asparagus or tear a handful of salad greens.
COOK
Boil potatoes with a dash of salt to desired softness- not too soft or they'll fall apart later! Drain, toss in marinade and let sit for an hour or so, tossing occasionally.
OPTIONAL: bring eggs to a boil in a small pot of water. Turn off the heat, cover with a lid, and let sit for 6 minutes. Rinse under cold water, peel and slice.
OPTIONAL: fry bacon in a pan on medium heat.
OPTIONAL: grill asparagus in a grill pan on medium-high heat until hot but still crunchy.
OPTIONAL: roast cherry tomatoes on a baking sheet with a splash of olive oil and dashes of salt and pepper at 350˚ for 20 minutes.
SERVE
Combine cold elements in a salad bowl and toss in the remaining marinade.
Serve with chopped dill and OPTIONAL asparagus, boiled eggs, chopped bacon or cherry tomatoes.