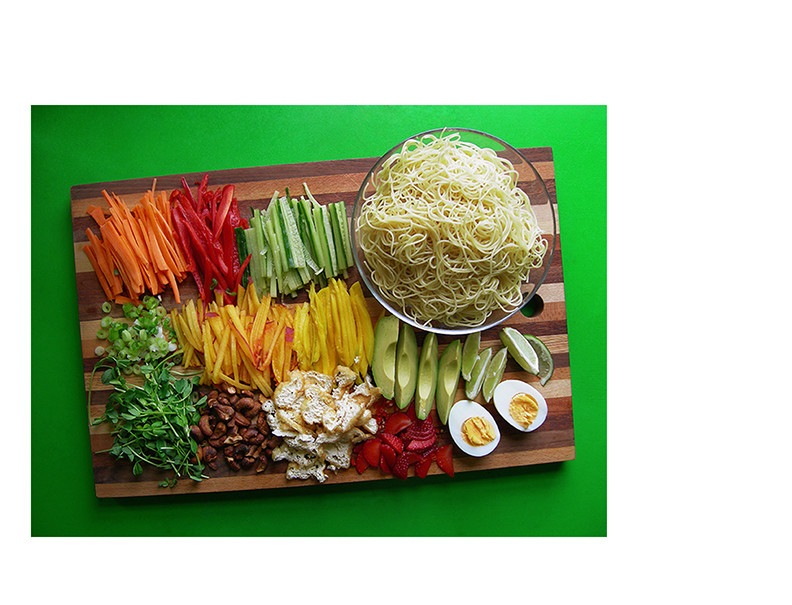 This is our version of an Indonesian 'Mix-Mix' Salad! Essentially veg (some raw, some cooked) in a spicy nut sauce- in this case, our Cashew Sauce! Often served on a bed of steamed potatoes, here we use angel hair pasta and lots of fruit! There's plenty of directions you can go with a Gado Gado: try adding blanched bean sprouts, steamed green beens, or crispy fried onions! Make a vegan version with fried tempeh!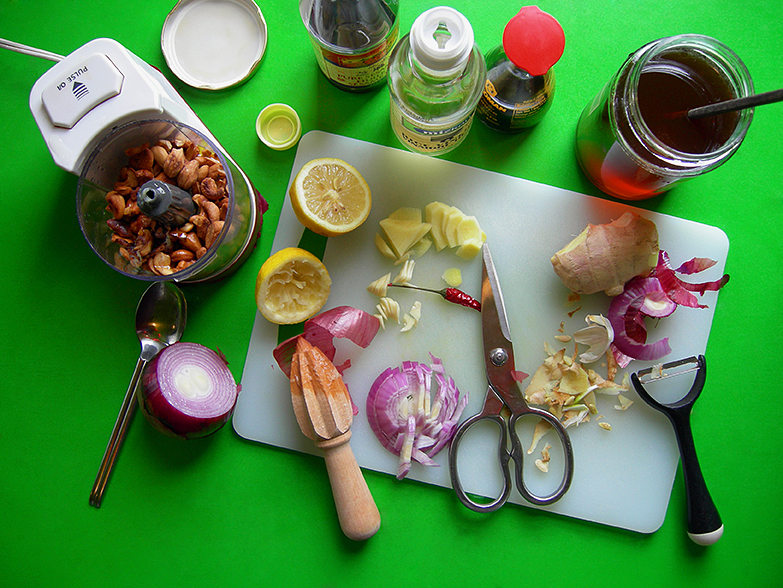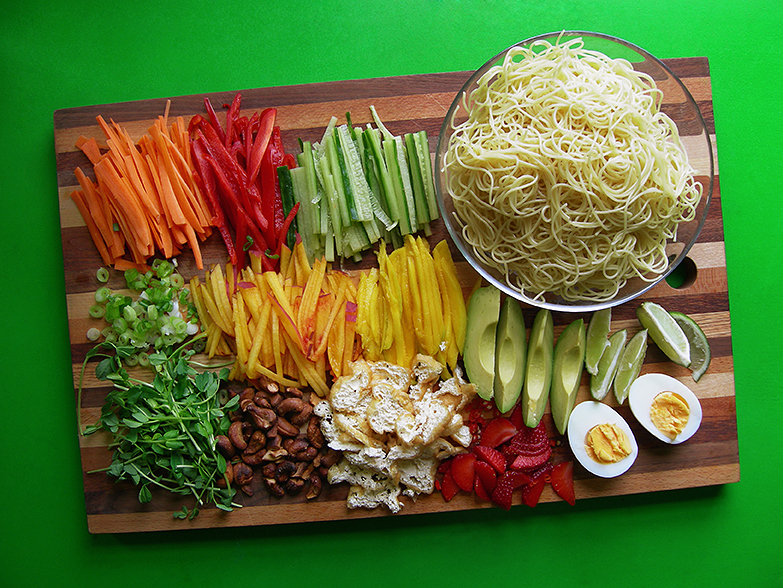 Print
CASHEW SAUCE
Ingredients
small handful of cashews
1 slice of red onion
1 clove of garlic
1-2cm of ginger
1/2 a Thai chili
olive oil
rice vinegar
soy sauce
1/2 a lime
maple syrup (or honey)
sesame oil
water
Instructions
Coarsely chop cashews and toast them in the oven at 325˚ for about 8 minutes.
Dice onion, garlic, ginger and chili.
Throw everybody in a mini food processor with a good splash of olive oil and splashes of rice vinegar, soy sauce and lime juice.
Add a little splash of maple syrup to reduce the acidic edge and 1 drop of sesame oil for scent.
Pulse to desired consistency.
Add water to thin if necessary.
Print
Gado Gado
EVK's take on Indonesian 'Mix-Mix' salad: cooked and cold veg on a bed of potatoes or noodles with a spicy nut dressing!
SERVES 2-4
Ingredients
handful of cashews
1/2 a pack of puffed tofu
 2-3 green onions
carrot
red pepper
peach
mango
cucumber
2 eggs
water
olive oil
salt
noodles
avocado
strawberries
lime
pea sprouts
Instructions
PREP
Coarsely chop cashews.
Slice tofu and green onions.
Julienne carrot, red pepper, peach, mango and cucumber.
HEAT
Bring eggs to a boil in a small pot. Turn off the heat, cover and let them sit for 6 minutes. Remove, rinse under cold water, peel and slice them in half.
Bring water to a boil in a medium-sized pot with a splash of olive oil and a dash of salt. Add noodles and cook extra firm (the dressing will soften them more later!).
Toast cashews in the oven at 325˚ for about 8 minutes.
SERVE
Combine noodles, veg and tofu in a salad bowl and toss thoroughly in CASHEW SAUCE.
Slice eggs, avocado, strawberries and lime.
Portion out bowls of noodles and top with cashews, pea sprouts, egg, avocado, strawberries and lime.