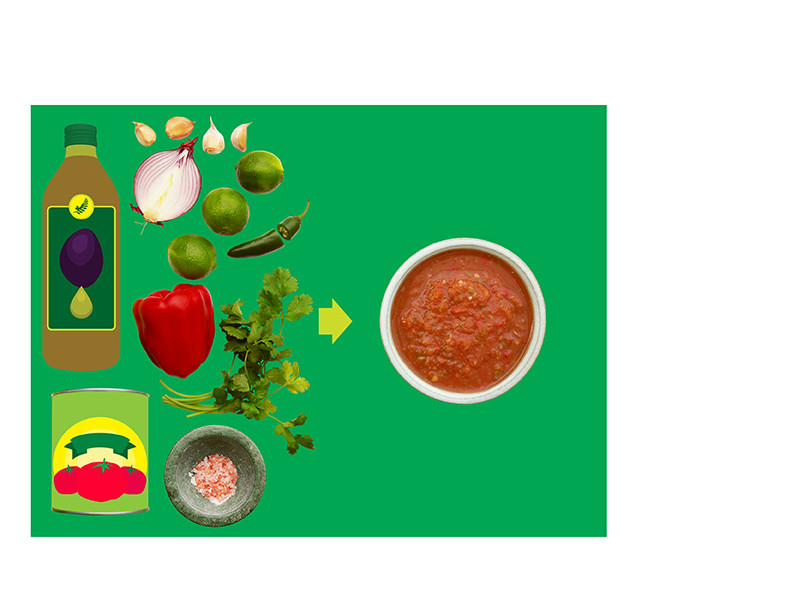 THIS BEAUTIFUL SALSA IS ONE OF THE CORNERSTONES OF OUR CUISINE HERE AT EVK! FRESH SALSA INSTANTLY ADDS LIFE TO RICE AND BEANS, BURRITOS, FAJITAS, NACHOS, TACOS, SCRAMBLED EGGS AND ROAST OR FRIED POTATOES! USE IT WHEN YOU'RE COOKING BASMATI RICE OR AS A MARINADE FOR TOFU OR CHICKEN!
SALSA CAN BE MADE EITHER OF 2 WAYS: PURÉED WITH A FOOD PROCESSOR OR SUBMERSION BLENDER LIKE A SAUCE (USE A CAN OF TOMATOES!), OR CHOPPED LIKE A SALAD (USE FRESH TOMATOES!).
TRY MAKING CHOPPED PEACH, MANGO, PINEAPPLE OR STRAWBERRY SALSA BY SUBSTITUTING ONE OF THESE GUYS IN PLACE OF THE TOMATOES (TOMATOES FIGHT WITH OTHER FRUITS IN A SALSA!). MAKE CORN SALSA THE SAME WAY (TRY OUR GRILLED CORN SALSA)!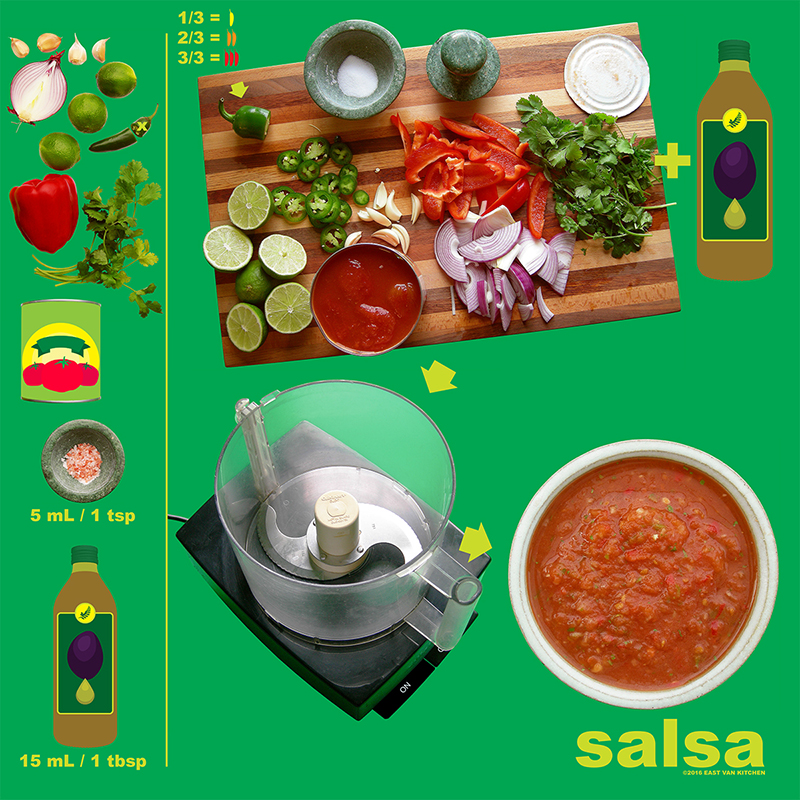 PICTURED HERE: 3 LIMES, 2/3 OF AN JALAPEÑO PEPPER (INCLUDING SEEDS), A CAN OF TOMATOES, A GOOD DASH OF SALT (NOT ALL OF THE SALT IN THE PICTURE IS NEEDED!), 4 SMALL CLOVES OF GARLIC (GREEN SHOOTS REMOVED), A RED PEPPER, 1/2 A RED ONION + 6-7 SPRIGS OF CILANTRO (THERE'S A FEW TOO MANY IN THIS PHOTO!).
Print
SALSA
This fresh salsa is one of the cornerstones of our cuisine at EVK! Try this versatile condiment on rice and beans, tacos and burritos, eggs, potatoes, etc!
Ingredients
1 red pepper (this is the secret to sweet and fresh tasting salsa!)
1 small red onion
4-5 cloves of garlic
1 jalapeño pepper
4-5 sprigs of cilantro
1 can of diced tomatoes (you can use fresh too!)
2-3 limes
olive oil (the secret to a rich-tasting salsa!)
salt
Instructions
Dice red pepper.
Finely dice onion, garlic, jalapeño pepper (add jalapeño slowly, you might not need the whole pepper!) and cilantro.
If you're using fresh tomatoes, cut them into small pieces.
Throw everybody in a bowl or blender, add tomatoes (liquid from the can too), lime juice, a splash of olive oil, and a good dash of salt.
Toss thoroughly or pulse to desired consistency if you're blending your salsa.