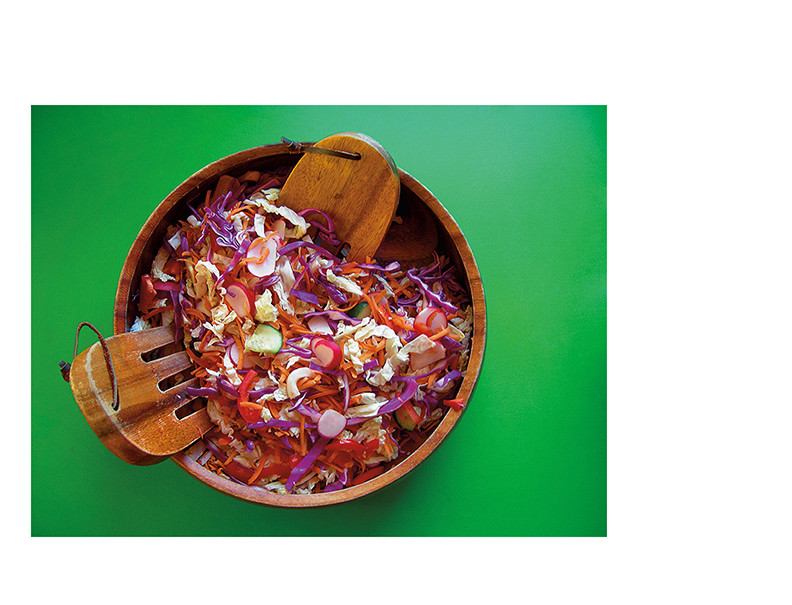 EVEN WHEN APPROACHED WITH DRASTICALLY REDUCED FOOD-FUN EXPECTATIONS, INDUSTRIAL COLESLAW FROM SAFEWAY, KFC OR BC FERRIES NEVER FAILS TO BE ANYTHING MORE THAN A LITTLE FOAM CUP OF SOGGY DISAPPOINTMENT. THIS REPEATED EXPERIENCE CAN LEAD ONE TO UNDERSTANDABLY CONCLUDE: 'COLESLAW, AS A SALAD, IS AS LAME AS IT SOUNDS.'
TO COMBAT THIS PERCEPTION, WE AT EVK HAVE POSTED OUR CRUNCHY, CUMIN-Y, YOGURT*-NO-MAYO, SUPERFOOD-RICH COLESLAW RECIPE; A DIFFERENT APPROACH TO THIS CLASSIC SUMMER BBQ SALAD!
*WORKS JUST AS WELL VEGAN!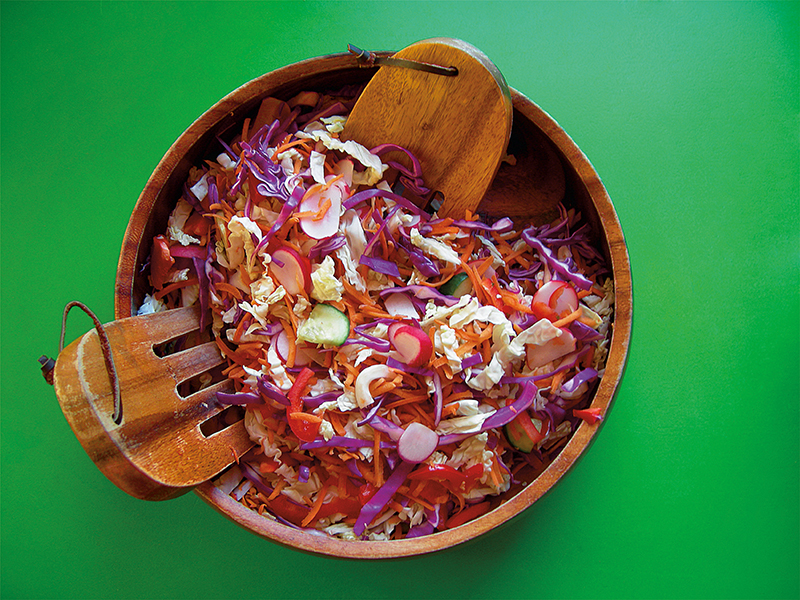 Print
ACV + YOGURT DRESSING
EVK's creamy Apple Cider Vinegar and Yogurt Dressing for crispy Coleslaw! Checkout our post on Making Salad Dressings!
Ingredients
garlic
olive oil
apple cider vinegar
rice vinegar
yogurt
salt
maple syrup (or honey)
sesame oil
Instructions
Finely dice garlic.
Pour a few good splashes of olive oil into a jar, blender or mini food processor.
Add splashes of apple cider and rice vinegar. You want to have a ratio of about 3 parts oil to 1 part acid.
Add a dollop yogurt and a dash of salt.
Add garlic.
Add a little splash of maple syrup to take the acid edge off and a drop of sesame oil for scent.
Seal your jar and shake, or whiz with a blender, submersion blender or mini food processor.
Taste your dressing and balance it by adding more of whatever you think it needs.
At the very last minute before serving your salad add the dressing a little at a time, tossing as you go. You don't need to use everything you've prepared, it'll keep for a bit in a sealed jar in the fridge. 'Less dressing, more tossing' is the mantra for salad success!
Print
COLESLAW
EVK's Coleslaw!
SERVES 2-4
Ingredients
1/2 a head of purple, green or savoy cabbage (or a mix!)
2 carrots
small red onion
sunflower seeds
sesame seeds
cumin seeds
OPTIONS
apple
broccoli
celery
chives
cilantro
cucumber
green onions
radishes
red pepper
almonds
walnuts
Instructions
Thinly slice cabbage.
Julienne or grate carrots.
Dice onion.
Cut OPTIONAL fruit, veg and nuts to desired size.
Toast sunflower seeds and OPTIONAL nuts in the oven at 325˚ for about 5 minutes.
Combine veg in a salad bowl and toss thoroughly in APPLE CIDER VINEGAR AND YOGURT dressing.
Serve with seeds and OPTIONAL nuts.