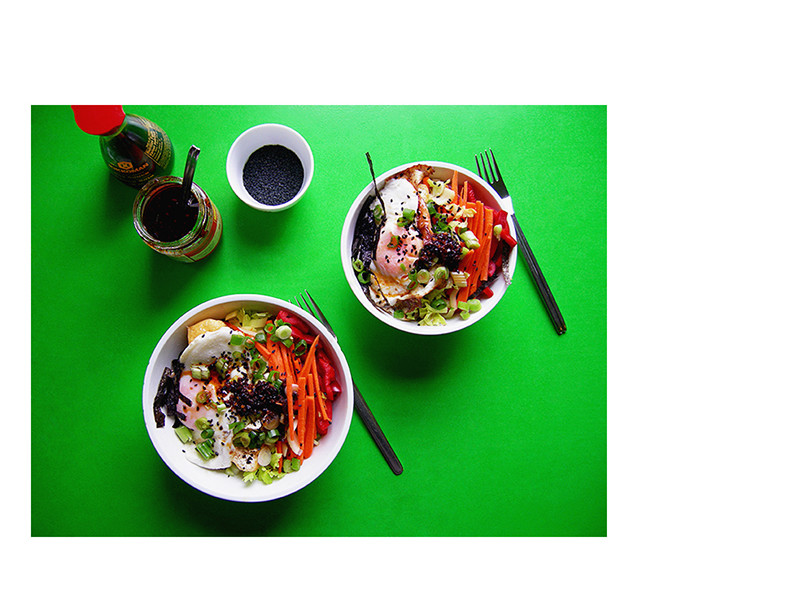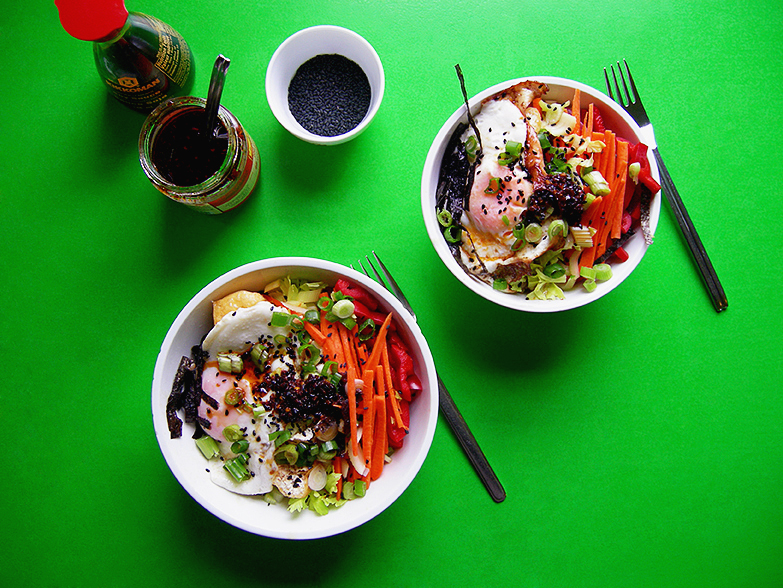 Try this rice bowl for a fun and healthy breakfast!
Print
FRIED EGG RICE BOWLS
Try this rice bowl for a tasty and healthy breakfast with lots of different flavours and textures!
SERVES 2
Ingredients
1/2 a red pepper
1 stalk of celery
2-3 cubes of puffed tofu
2 green onions
carrot
1 sheet of nori
rice
water
salt
2 eggs
butter
oil
sesame seeds
Chiu Chow chili oil
soy sauce
Instructions
PREP
Slice red pepper, celery, puffed tofu and green onions.
Julienne a carrot.
Cut nori into matchsticks with a pair of kitchen scissors.
COOK
Boil and simmer 1 part brown rice to 2 parts water (1:1-1/2 for white rice) with a good dash of salt in a covered wide-bottom pot for about 40+ minutes (about 20 for white rice).
Fry eggs in a 50:50 mix of butter + oil in a covered pan on medium-high heat (the secret to non-sticking eggs is to heat your pan first, then heat the oil + butter combo, wait for it to sizzle, then add the eggs!).
SERVE
Portion out bowls of rice and layer with tofu, veg and eggs.
Top with sesame seeds, green onions and nori.
Add quick splashes of chili oil and soy sauce.